Quick menu
1. The list in brief
2. Best overall
3. Best 15-inch
4. Best 14-inch
5. Best 17-inch
6. Best laptop screen
7. Best value
8. How we test
9. Also tested
10. How to spot the best deal
The best gaming laptop is a thing of beauty. A piece of PC gaming hardware that's as sleek and portable as it is powerful. We're at a point in PC tech where you can genuinely have desktop gaming performance in a notebook less than an inch thick and small enough to pack in a backpack.
You've decided to buy a gaming laptop at the right time. The next generation of mobile GPU and CPU is only just hitting the shelves, offering the best Nvidia, AMD, and Intel has to offer. I've already tested the alternatives, and the best gaming laptop is the Lenovo Legion Pro 7i. It makes the best RTX 4090 gaming laptops , including the Razer Blade 16 and Asus ROG Zephyrus M16, and even the frankly ridiculous MSI Titan GT77 HX, look like overkill with similar gaming performance and a far lower sticker price for its RTX 4080 power.
But we know even these new chips will mostly be wrapped into the same chassis we've grown to love over the past year. And the price on last-gen offerings ought to come down in the short term, too, which makes this inflection point between two hardware generations a good time to start looking for a new gaming laptop.
We test dozens of gaming laptops every year. The ones that make it to the list provide the best bang for your buck—the best balance of performance, price, and portability.
The quick list
The best gaming laptop
Our favorite config: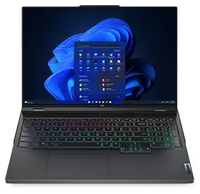 Lenovo Legion Pro 7i (Gen 8)| Intel Core i9 13900HX | Nvidia RTX 4080 (150W) | 32GB DDR5 | 1TB NVMe SSD
The RTX 4080 model is our absolute favorite version of the Legion Pro 7i. That's the same one we've tested ourselves. This awesome chassis delivers enough headroom for the RTX 4080 to shine in games, and it often matches laptops with more restrained RTX 4090 GPUs inside. Tough to argue with that.
We tested: Intel Core i9 13900HX | Nvidia RTX 4080 (150W) | 32GB DDR5 | 1TB NVMe SSD
---
Buy if...
✅ You want serious gaming power: The RTX 4080 mobile GPU is a fantastic gaming chip, offering stellar performance on the native 1600p screen. And that Intel CPU is an absolute monster of processor, too.

✅ You value good value: Most of the next-gen laptops we've tested so far have had an almost punitive price premium attached to them, which makes them hard to justify. The Legion Pro 7i, however, can offer performance as high as a Razer Blade 16 with an RTX 4090 inside it, while coming in $2,000 cheaper.

✅ You want a grown-up laptop: The Lenovo chassis is smart, stylish, and doesn't come with any over-the-top 'gamer' aesthetic bull.
Don't buy if:
❌ You need looong battery life: The biggest downside with the Legion Pro 7i is its gaming battery life is one of the weakest we've seen. Given the high-powered GPU that's maybe not a surprise, and realistically you are going to gaming plugged in for the most part.

❌ You're after something super portable: The 16-inch chassis isn't that much bigger than a standard 15-inch machine thanks to the thin bezels around the screen, but they don't offer the same level of portability as the excellent 14-inch options around today.
The bottom line
🪛 The Legion Pro 7i is a stunning gaming laptop that really cements Lenovo's place in the top tier of gaming machines. The performance and value of the high-end components inside this laptop means it can rival far more expensive systems without sounding like a jet turbine to do so. It's both the best gaming laptop, and the best 16-inch laptop right now.
The Lenovo Legion Pro 7i is the best 16-inch gaming laptop, and since 16-inch is the best form factor for a gaming laptop, it is therefore the best gaming laptop overall as well.
It's a machine that comes in at a price point that makes the rest of the high-end RTX 40-series look even more ridiculous on their lofty $4,000+ perches. And its the RTX 4080 model that has us impressed in testing, offering the sort of gaming performance that has me questioning why anyone would want an RTX 4090 machine.
The Legion Pro 7i runs its RTX 4080 at a 150W TGP, which is the effective maximum of the GPU. Though manufacturers are given an extra 25W leeway to bulk up their own specs if they feel they can push a little extra juice through their own systems. Lenovo hasn't gone down that route, the Legion Pro knows what it likes, and it likes the 150W TGP and no more.
The Legion Pro 7i uses a 13th Gen Intel chip—the Core i9 13900HX. If, like me, you were to assume that would essentially be a slightly higher clocked version of the Core i9 13900H Asus has used in its excellent Zephyrus M16 gaming laptop, then you'd be wrong.
Despite the almost identical name, this is an entirely different, substantially better CPU. Where the one in the Asus is a 14-core design, with six P-cores, this is a 24-core setup with eight P-cores and twice the number of E-cores. They're both capable of 5.4GHz boost clocks, though inevitably the bigger chip has a higher base TDP of 45W.
Then, backing up the key CPU/GPU combination is a 1TB PCIe 4.0 Samsung SSD, and 32GB of DDR5-5600 SK Hynix memory.
The final part of the package is the 1600p 240Hz screen. Which is fine. I fear I've been spoiled by the joy of the mini LED backlights used in the last few laptop displays I've tested, because this one lacks the punch that I now want from a gaming panel. What it does have, however, is the 16:10 aspect ratio I never knew I needed in a gaming laptop until I started using them on the regular. The 2560 x 1600 native resolution is a great match for the 16-inch screen size the Legion Pro comes rocking.
The Legion Pro 7i manages to outperform both the Razer Blade 16 and the Asus Zephyrus M16 regularly, at both 1080p and 1440p resolutions. Only the chonky boi MSI Titan GT77 is able to utilise its RTX 4090-ish GPU to its fullest potential. And then at the expense of acoustics and potentially your sanity.
Because that's the thing I keep coming back to when I'm looking at this Lenovo machine. It's not the prettiest, but it sure can smash out them high gaming frame rates. And does it for around $2,000 less than the Blade 16.
So, it feels like a grown up gaming laptop, is eminently usable, has performance in spades—in both CPU and GPU terms—and doesn't cost anywhere near the same amount as the next-gen machines we've already checked out. I mean, it's not cheap; $2,750 / £2,800 is still a not inconsiderable chunk of change. But that's not an unexpected price tag for such a high powered notebook.
Read our full Lenovo Legion Pro 7i (Gen 8) review.
The best 15-inch gaming laptop
Our favorite config: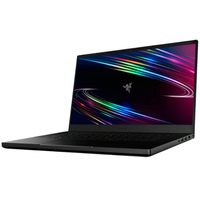 Razer Blade 15 | Intel Core i7 12800H | Nvidia RTX 3070 Ti
You can, of course, go for the big boi—the RTX 3080 Ti—but in this slimline chassis, the Nvidia RTX 3070 Ti will deliver fantastic frame rates, even at the 1440p resolution of the 240Hz screen. You also get a 1TB PCIe 4.0 NVMe SSD and 16GB of dual-channel DDR5 RAM at a blistering 4,800MHz.
We tested: Intel Core i7 10875HX | Nvidia RTX 2080 Super | 16GB DDR4 | 1TB NVMe SSD
---
Buy if...
✅ You want a premium build: Razer's Blade 15 is as close as you're going to get to a gaming MacBook aesthetic. Well, apart from that big green logo on the lid...

✅ You want options: There are a huge number of Blade 15 configurations out there, going from the Base to the Advanced systems, with a variety of price points.

✅ You want battery life: If we're honest, game time away from a plug is always limited in a modern gaming laptop. But the Blade 15, even with the RTX 3080 in it, is the best performing on that front of all the machines in this list.
Don't buy if:
❌ You need peak plugged-in performance: That slimline chassis is an essential part of the Blade 15's charm but is also why Razer limits the TGP of the graphics cards in them.

❌ You're on a budget: Razer's gaming laptops are not cheap, and always come with a price premium on top of the likes of Asus or Acer's more affordable machines.
The bottom line
🪛 The Razer Blade 15 has long been our favorite 15-inch gaming laptop. It mixes style with performance and a wealth of screen real estate, and comes in a wide variety of configurations. Now, those configs may not necessarily suit every budget because of the Razer price premium, but if you're willing to pay for the absolute best the Blade 15 deserves to be at the top of your list.
The latest spin of the Razer Blade 15 once again improves on one of the best gaming laptops ever made. It has the same gorgeous CNC-milled aluminum chassis as its predecessor, only this time it can house one of Nvidia's latest RTX 40-series GPUs and an Intel 13th Gen Core i9 CPU.
When we played with the Razer Blade 15 Advanced with a 10th Gen Intel chip and RTX 3080 (95W) GPU inside it. And we fell in love all over again. The chassis hasn't changed since then, it just now ships with even more powerful components. We've also since then tried out the larger Razer Blade 17 with an RTX 3080 Ti humming away inside it, alongside one of those tasty 12th Gen chips and still stand bewildered by what will fit inside such a compact and neat chassis.
That said, you will get some throttling because of that slimline design, and even on the larger Blade 17 the battery life can be a little slim, but you're still getting outstanding performance from a beautiful machine.
The Blade 15 isn't the lightest gaming laptop you can buy, but five pounds is still way better than plenty of traditional gaming laptops, while also offering similar performance and specs. That heft helps make it feel solid too. It also means the Blade 15 travels well in your backpack. An excellent choice for the gamer on the go... or if you don't have the real estate for a full-blown gaming desktop and monitor.
Keyboard snobs will be happy to see a larger shift and half-height arrow keys. The Blade 15 Advanced offers per-key RGB lighting over the Base Model's zonal lighting. Typing feels great, and I've always liked the feel of the Blade's keycaps. The trackpad can be frustrating at times, but you're going to want to use a mouse with this gorgeous machine anyway, so it's not the end of the world.
One of the best things about the Blade 15 is the number of configurations Razer offers. From the RTX 3060 Base Edition to the RTX 4070 Advanced with a 240Hz QHD panel, there's something for almost everyone. It's one of the most beautiful gaming laptops around and still one of the most powerful.
Read our full Razer Blade 15 Advanced Edition review.
The best 14-inch gaming laptop
Our favorite config: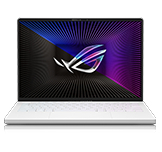 Asus ROG Zephyrus G14 (GA402RJ) | AMD Ryzen 9 6900HS | AMD RX 6700S
This is the less powerful version of the G14 than the one we reviewed, but all the better off for it. The CPU remains the same powerful octa-core AMD number, but the GPU and RAM have come down to a more modest spec, which makes the impressive G14 an affordable yet still powerful gaming machine.
We tested: AMD Ryzen 9 6900HS | AMD Radeon RX 6800S | 16GB DDR5 | 1TB NVMe SSD
---
Buy if...
✅ You want a compact machine: The smaller 14-inch scale of the Asus G14 makes it a great compromise between the office ultrabook and a big gaming laptop.

✅ You're price-conscious: There are fantastic configurations of the G14 that come in as reasonably priced as any other laptop of the same spec and yet with all the style and quality of Asus' diminutive machine.

✅ You're an AMD fan: There are more options for AMD fans than ever before, but still Nvidia and Intel dominate the market. Asus G14, however, remains one of the few that can offer both AMD CPUs and GPUs.
Don't buy if:
❌ You need a big screen: The 14-inch panel may not suit some users, though you can get high-res options such as the 120Hz 1600p screen we've tested.

❌ You want battery life: One of the weakest points of AMD's notebooks is their performance away from a plug socket. The G14 then posts one of the weakest results of all the machines on test.
The bottom line
🪛 Asus' Zephyrus G14 is deservedly one of the best gaming laptops around today. The smaller scale of 14-inch machines makes them a delight if you're looking to travel with your laptop, and you can still fit them out with high-res screens, too. The battery life is a concern, however, but their relative affordability and general gaming performance makes them well worth a look.
The new version of the Zephyrus G14 for 2022 impresses us once again with its well-balanced spec and excellent gaming performance. Seriously, this thing shreds through frames up to its 120Hz refresh rate, and it's great for much more than gaming, too.
We checked out the version with AMD's RX 6800S under the hood, though there is an option for an RX 6700S, for a chunk less cash. Arguably, that cheaper option sounds a bit better to us, as the high-end one can get a little pricey and close in on the expensive but excellent Razer Blade 14. It's not helped much by its 32GB of DDR5-4800 RAM in that regard, though we do love having all that speedy memory raring to go for whatever you can throw at it.
At its heart is the AMD Ryzen 6900HS. That's one of the top chips from AMD's Ryzen 6000-series, but not its best and brightest—though you're really fighting over boost clocks and not much else when it comes to the tippy top of the red team's mobile processors anyways. It delivers eight cores and 16 threads of the Zen 3+ architecture, capable of boosting to 4.9GHz (which it actually does on occasion), so that's more than acceptable by me.
That GPU and CPU combo makes quick work of our benchmarking suite, however, and I have to say I'm heartily impressed with the G14's gaming performance overall. That's even without turning to the more aggressive Turbo preset—I tested everything with the standard Performance mode. It's able to top the framerate of RTX 3080 and RTX 3070 mobile chips pretty much across the board, and while it does slip below the RTX 3080 Ti in the Razer Blade 17, that's a much larger laptop with a much larger price tag.
One of my favorite things about the G14 is in the name—it's a 14-inch laptop. The blend of screen real estate and compact size is a great in-between of bulkier 15- and 17-inch designs, and not quite as compromised as a 13-inch model can feel. But the big thing with the 2022 model is that the 14-inch size has been fitted out with a larger 16:10 aspect ratio than previous models' 16:9 panels.
When it's running smoothly, the G14's high refresh and high-resolution panel also looks fantastic. Being such a bright and colorful IPS display on this model, you really get to soak in every detail.
One of the downsides with this machine is the battery life, which really isn't the best while gaming—less than an hour while actually playing. You'll get more when playing videos or doing something boring like working, but we do expect a bit more from a modern laptop. It's not a deal-breaker, but definitely something you'll want to bear in mind.
The G14 has lost that quality of being surprisingly cheap for what you get, too, even if you do get stellar performance out of it.
Perhaps one reason for that is the inclusion of 32GB of DDR5 RAM—16GB of that is soldered to the board, and the other 16GB attached via removable SO-DIMM from the underside of the laptop. That's not cheap memory. DDR5 prices have hardly settled down since the memory standard was introduced last year, and 32GB is a bounty of high-performance memory by comparison to most gaming PCs today.
Overall, though, the G14 experience is a pretty easy and straightforward one. I didn't run into any major issues with it over the couple of weeks I've had it, and for the few negatives I have with the design, Asus has offset them with heaps of positives. The cheaper models may be a better bet than the one we reviewed, however. The same chassis and great design but with a slightly more amicable price tag.
Read our full Asus ROG Zephyrus G14 2022 (GA402RK) review.
Best Razer laptop for gaming | Best Acer laptop for gaming | Best MSI laptop for gaming| Best gaming keyboard | Best gaming mouse | Best gaming chair
The best 17-inch gaming laptop
Our favorite config: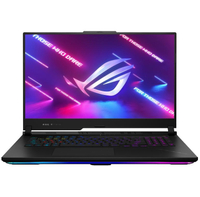 Asus ROG Strix Scar 17 (2023) | AMD Ryzen 9 7945HX | Nvidia RTX 4090 | 32GB DDR5-4800 | 1TB SSD
The Scar 17 is one of the fastest, most powerful gaming laptops I've ever tested. And if that's all you care about this is the machine for you. For me, the ergonomics make it feel like a second-tier system despite the fact it can outperform far more expensive gaming laptops. Asus giveth, and Asus taketh away.
We tested: AMD Ryzen 9 7945HX | Nvidia RTX 4090 | 32GB DDR5-4800 | 1TB SSD
---
Buy if...
✅ You want the most powerful gaming laptop: The combination of AMD's latest Ryzen mobile chip and Nvidia's RTX 4090 makes this a real frame rate spitting monster of machine.

✅ You want a desktop replacement: The large 17-inch screen and 1440p resolution gives you a lot of space to work on without taking up the same space as a full desktop+monitor setup.
Don't buy if...
❌ You want good battery life: at just 55 minutes in gaming terms, the battery life is among the worst I've ever tested.

❌ Ergonomics is key to you: the typing experience isn't great with such a defined chassis edge that digs into your forearms, and the trackpad is horrible.

❌ You like a quiet life: it gets LOUD.
The bottom line
🪛 The Asus ROG Strix Scar 17 uses AMD's latest Dragon Range CPU, and it knocks even the most powerful Intel laptop chips off the top perch. Combined with the RTX 4090 that makes this a combination for gaming and productivity that's hard to beat at this price.
AMD's new range of Zen 4 mobile chips are the finest number crunchers you'll find in a gaming laptop. That makes this Asus ROG Strix Scar 17 one of the most powerful gaming laptops I've ever tested. But some of the shine has been taken off because I can't shake the feeling AMD machines still seem to be tier-two in the eyes of their makers.
Which is a shame because this is a really impressive gaming laptop that makes the ridiculous MSI Titan look even more dumb. The Asus is near $2,000 cheaper and outperforms it in practically every metric that matters.
This is the most affordable RTX 4090 machine I've seen in this generation, so I guess in some regards being a seen as a lesser light in laptops terms has maybe served this AMD-powered system after all. It's also one of the best performing RTX 4090 machines I've seen, which is a double whammy that makes it difficult to recommend any of the rest.
You absolutely do need to be plugging it in because, despite that 90Wh battery, it really doesn't last long away from a wall socket. If you're gaming, consider the battery like some sort of uninterruptible power supply rather than something to rely on for long.
The key spec, as always in a gaming notebook, is that of the CPU/GPU combo. We've already spoken in great length about the mobile RTX 4090, decrying its misnaming as an RTX 4080 in a thin disguise, but the mobile AMD CPU is the big new thing here.
It's AMD's latest Zen 4 architecture brought into the laptop realm and it's pretty damned special, hosing the competing Intel 13th Gen chips used in comparative systems. Sometimes by a long way. It's a 16-core, 32-thread processing monster that so far hasn't burned up inside the confines of this surprisingly slight chassis.
The nominal clock speed of the chip is just 2.5GHz, with a boost clock of 5.4GHz. And that's actually a reliable boost, too, because I was reliably seeing the chip ramping up to that level during single-core loads in my testing. In heavily multithreaded loads I was seeing a regular 4.7GHz, which is no mean feat. I repeat, we are talking about 16 full Zen 4 CPU cores here.
The most powerful Intel mobile chip we've seen has been the Core i9 13980HX in the Asus Strix Scar 16, this machine's smaller sibling. That's a 24-core processor with 32-threads, but remember Intel is mixing eight of its Performance cores with 16 Efficient cores to hit its thread target. And that shows in the CPU benchmarks.
I keep coming back to my irredeemably negative experience of using the MSI Titan machine. That's an offensively chonky, loud machine that still only just delivers the sort of performance this Asus Scar 17 can. And that means as much as the ergonomics of this big boi ROG laptop don't sing to me, the raw performance absolutely does.
It's also my first taste of AMD's new range of laptop processors, and it's certainly pleasing my techie palate. The red team is really nailing mobile chips at the moment, with the power of this Ryzen 9 7945HX and the efficiency and performance of its Z1 Extreme, née Ryzen 7 7840U, that is gracing the excellent ROG Ally handheld gaming PC.
Read our full Asus ROG Strix Scar 17 (2023) review.
The best gaming laptop screen
Our favorite config: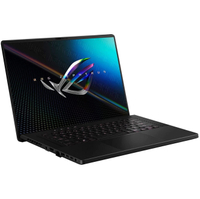 Asus ROG Zephyrus M16 (2023) | RTX 4090 | Core i9 13900H | 32GB DDR5-4800 | 2TB SSD
Our pick of the M16s is the one we reviewed—the one that packs an RTX 4090. It's not the sensible choice, but that's why we don't have this laptop in the top spot and instead rate it as the best ultra high-end machine. Of all the high-end machines we've tested so far of this generation, this is the best performer and makes the most sense.
We tested: Intel Core i9 13900H | Nvidia RTX 4090 | 32GB DDR5 | 2TB NVMe SSD
---
Buy if...
✅ You want the ultimate laptops screen: The 16-inch Mini LED display used in the Asus is the absolute best panel we've ever seen in a laptop. It's 16:10 1600p native resolution is sharp, but doesn't put the same demands on the GPU as a 4K one.

✅ You want to enable HDR: One of the best things about Mini LED is just how bright they can get, and while they're horrible panels for standard monitors, the laptop versions have been great. This one is punchy, super bright, and looks as good with SDR as HDR content. And that means you can leave HDR enabled all the time.

✅ You want power in a slight chassis: The Asus M16 chassis is surprisingly slight for a system that can support a 150W RTX 4090 GPU.
Don't buy if:
❌ You want a quiet laptop: The downside of having a slim chassis with an RTX 4090 GPU is that it gets seriously loud at top performance.

❌ You need top CPU power: The Core i9 13900H chip in the Asus is a 14-core processor, which is no slouch, but it's well behind the 24-core CPUs inside the Razer Blade 16 or Lenovo Legion Pro 7i.

❌ You like it subtle: The bright lights of the AniMe Matrix display on the back of the laptop lid is bizarre, needless, and really rather showy. You can, of course, disable it.
The bottom line
🪛 Where it not for the Legion Pro 7i the Asus Zephyrus M16 would have been my favorite 16-inch laptop, but it's high price and sheer volume mean it's a close second. But there is no denying the 240Hz Nebula HDR screen Asus has picked is simply stunning—it is quite easily the best gaming laptop screen I've ever tested.
The Zephyrus M16 is my favourite of the RTX 4090 machines I've tested so far this year, and that's despite it still carrying an absurdly high cost and whirring up like a jet turbine.
This version of the Zephyrus M16 isn't about affordability, this is all about excess in a modest chassis. To those ends we're looking at the RTX 4090 version, though not the extreme 175W level Razer and MSI have allowed the GPU to in their systems. This is the slightly more parsimonious 150W RTX 4090 spec, which is still technically at the top of its potential TGP rating, but without the extra 25W leeway manufacturers are allowed on top of that figure.
The Zephyrus M16 also comes sporting one of Intel's next generation of mobile processors from the Raptor Lake lineup. This Core i9 13900H is a 14-core chip, with 20-threads. In Intel's modern hybrid parlance, that means six Performance-cores with Hyperthreading, and eight Efficient-cores without.
That is markedly down on the Core i9 13950HX we've checked out in the Blade 16 and the Titan machines, which has a full 24 cores and 32 threads. But, honestly, for a gaming laptop, I'm not convinced that you're really missing out when this chip is still happily supporting that monster Nvidia GPU with single core performance around the top of the charts.
The good news is the cooling inside the Zephyrus M16 is good enough that both the RTX 4090 and the Core i9 CPU are able to run at top levels, though the trade off is that you do have to put up with those unreasonable noise levels.
Still, you can see what the Asus machine is capable of in the benchmarks. Despite trading that extra 25W on the RTX 4090 TGP with the Blade 16, the Zephyrus M16 is still able to deliver frame rates almost on par with the more expensive Razer system. Interestingly, in some CPU bound games at 1080p you can even see it pulling ahead, even though it doesn't have as powerful a processor inside it.
The final piece of the next-gen triumvirate in the new range of gaming laptops is the screen. The Zephyrus M16 in RTX 4090 and RTX 4080 flavours comes with a mini LED backlight on its 16:10 screens, and it makes this bright panel and incredibly effective HDR display.
This screen is one of the reasons I'm so enamoured with the Asus Zephyrus M16, but as an all-round package I think I'd probably pick the Asus rig over Razer right now. The Zephyrus chassis is still impressively slight, and the lifting action of the screen hinge remains a smart way of increasing airflow, it's just a little more angular and more traditionally 'gamery'.
But I'm always going to come back to that price. I get that this is the top spec for the Zephyrus M16, and it's a whole new generation, which is going to be a large part of the reason for the early adopter price premium, but over $4,000 for a gaming laptop is unconscionable. That's the only real negative I have for the Zephyrus M16, and though price is a big one, it doesn't change the fact this is the hardware package that's impressed me the most in this current generation of gaming laptops.
Read our full Asus ROG Zephyrus M16 (2023) review.
The best value gaming laptop
Our favorite config: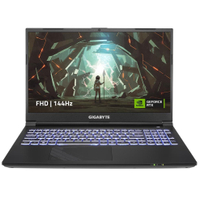 Gigabyte G5 (2023) | Intel Core i5 12500H | Nvidia RTX 4060 | 8GB DDR4-3200 | 512GB SSD
It's going to be tough to beat the Gigabyte G5 (2023) for the best affordable gaming laptop this year. It's smartly provisioned with an RTX 4060 and good on price. The 8GB of system memory is a bit miserly, but it is possible to upgrade the RAM with easy access to the insides of the G5 chassis.
We tested: Intel Core i5 12500H | Nvidia RTX 4060 | 16GB DDR4-3200 | 512GB NVMe SSD
---
Buy if...
✅ You want a cheaper RTX 40-series GPU: With a price tag not dissimilar to RTX 3060 gaming laptops, you're not paying a large premium for Nvidia's latest RTX 40-series architecture.
✅ You're after a laptop for both work and play: The G5 is predominantly a gaming laptop, but it's a relatively sleek chassis and its Alder Lake CPU does come with plenty of E-cores to throw at other tasks beyond gaming.
Don't buy if...
❌ You want to install a lot of games at once: With just a 512GB SSD installed out of the box, and the OS taking up some of that already, there's not a huge amount of room left for large game libraries.

❌ You want a quiet gaming device: Better stick to the Steam Deck or Asus ROG Ally if you want something quieter. The G5 makes a helluva noise when it's gaming.
The bottom line
🪛 You might reasonably assume that a next-gen gaming laptop will cost considerably more than the previous generation, but the Gigabyte G5 (2023) is basically the exact same machine as last year, at a bargain price, just with a new RTX 40-series GPU parachuted in. And that works for us.
The Gigabyte G5 (2023) is a great deal, and that's a little surprising considering the price hike we usually see for brand new gaming laptops. But you'll find no fad features or unnecessary add-ons to push up the costs here. Just a straightforward, well-built, and cleverly provisioned gaming laptop for £1,200(opens in new tab) (or ~$1,100 in the US for a similar, if only slightly worse, model) that delivers plenty of frames in games.
Let's start with the star of the show here: the RTX 4060. We're yet to see Nvidia's RTX 40-series drop to this level on desktop, but even this budget-friendly card delivers superb 1080p performance befitting the G5's 1080p 144Hz display. That's partially down to the power Gigabyte's prepared to pump into the GPU inside this machine: 75W.
That might not seem like much next to the 175W RTX 4090 laptops we've reviewed this year, but it's 30W more than MSI is ready to run through its own RTX 4060-powered gaming laptop, the Cyborg 15(opens in new tab). And you can watch the frame rate go up with every extra watt pulsing through the G5's GPU. The Gigabyte G5 is up to 27% faster than the Cyborg 15 in our testing, and the Cyborg 15 even has a better CPU for gaming under the hood.
The CPU in question here is Intel's Core i5 12500H. A fairly sensible choice, though let down a little by only four Performance-cores (P-cores). This is one of Intel's hybrid Alder Lake chips, so it comes with a basket of Efficient-cores (E-cores) to help lighten the load on the quicker gaming silicon. There are eight E-cores here, which makes for a 12-core chip in total.
Generally, I'd prefer a few more P-cores in the mix, at least six. Like the Core i7 12650H CPU found on the MSI Cyborg 15, in fact. That comes with six P-cores and just four E-cores. The MSI laptop also comes with faster DDR5 memory than the legacy DDR4 on the Gigabyte machine. But as you can see in the benchmarking results, the actual difference in performance between these two is relatively small even in CPU-heavy applications and tests.
You can open this laptop up relatively easily with a Phillips-head screwdriver to access its innards. You will poke through a couple of stickers over the screws that might void your warranty, so be sure you want to be diving in there before you do, but behind the back panel you'll find one free M.2 SSD slot for an easy storage capacity upgrade. You'll probably want to take advantage of that eventually as the 512GB SSD included in this machine will fill up quickly.
The biggest drawback of the G5 is the noise this thing makes when it's running any marginally demanding game. That's not a new experience for anyone who has used a gaming laptop in the past, but take this as your warning that gaming laptops are generally not any quieter in 2023. Not if you want high performance anyways. The MSI Cyborg 15 I also tested this past week is only quieter owing to its significantly reduced performance.
There's plenty of good things to say about the screen on the G5, too. It's vibrant and responsive, and while 15.6-inches can feel a little encroaching at 1080p, it's a happy median for frame rate, resolution, and size. While this laptop does suffer a little in contrast, colours are nicely saturated and it's an all-round solid panel.
The G5 (2023) just feels such a solid design for a gaming laptop. The performance is there, the flexibility and upgradeability too, and you aren't paying over the odds for the hot new thing. It's actually pretty affordable. This is going to be tough to beat for the best affordable gaming laptop to buy right now.
Read our full Gigabyte G5 (2023) review.
How we test gaming laptops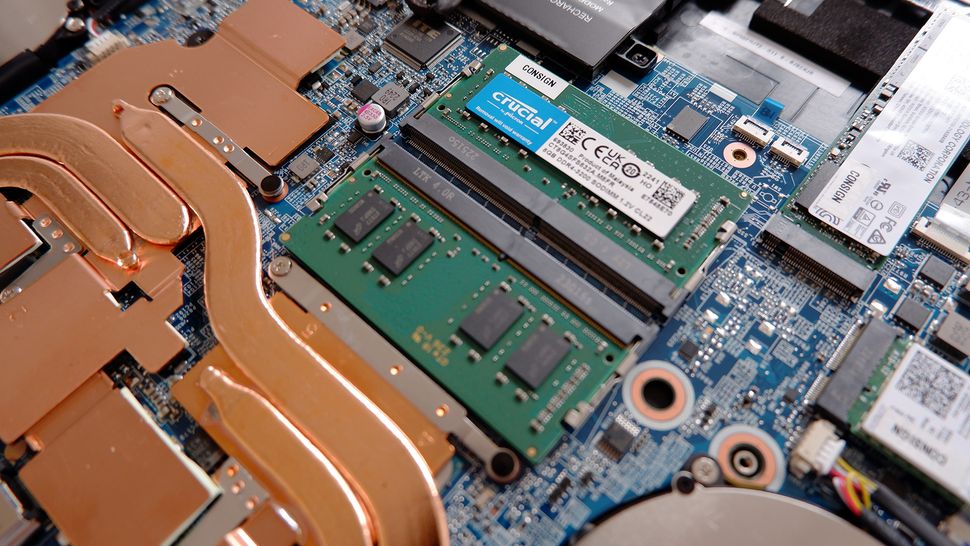 We dedicate a lot of time to our gaming laptop testing to ensure that we're capturing all the objective performance data we need, and that we have the opportunity to catalogue the subjective experience of actually using a given device. Gaming laptops are expensive items, and you're right to do your research before buying, so we're passionate about making sure we're able to tell you what a notebook is like to use as well as how powerful it is.
The objective side demands that we put each system through our standard benchmarking suite. That allows us to confidently compare systems on directly referential basis. We test the raw performance of the CPU, GPU, and storage components of a system using the Cinebench R23 and Blender 3.3.0 benchmarks to get a bead on the processor and graphics card rendering performance. We also use X264 to test the encoding power of a laptop CPU.
3DMark's Storage test and the Final Fantasy XIV Endwalker benchmarks are a great way to highlight the gaming performance of a laptop's storage subsystem. And 3DMark also gives us a way to get a synthetic read on both the gaming and ray tracing performance of a GPU.
We also put a system through gaming performance tests of Cyberpunk 2077, F1 22, Hitman 3, Horizon Zero Dawn, and Metro Exodus Enhanced, at both 1080p—so we have a base reference score no matter what a system's native resolution is—and at 1440p and 4K where that is available.
We also run some experiential tests on a system's panel—we use Lagom's LCD test images to help discern things like black levels and white saturation as well as general desktop and gaming testing to see how it feels to use a laptop's screen.
It's also important to check the actual gaming frequency of both a laptop's GPU and CPU, to see how a given slice of silicon performs given the thermal constraints of different notebook chassis.
We then use PCMark 10's gaming battery life test to give us a comparative battery life metric.
Personally I also like to always write a review of a given laptop on the machine itself. That gives you a good feel about both the trackpad and keyboard, as well as the ergonomics of the chassis' design, too.
We then bring all of that subjective and objective data together alongside the price to decide how well each machine we test stands up against all the other gaming laptops we've looked at in our combined decades of PC hardware testing.
Also tested
The above gaming laptops are the ones we recommend you spend your hard-earned cash on if you're looking for a new machine, but aren't the only ones we've reviewed. We regularly test different gaming laptops to make sure we're recommending only the absolute best.
These are the machines we've looked at recently that didn't make the cut...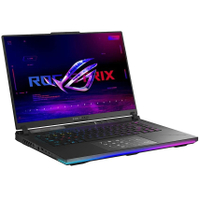 Asus ROG Strix Scar 16 | Intel Core i9 13980HX | Nvidia RTX 4080 | 16GB DDR5-4800 | 1TB SSD
The ROG Strix Scar 16 (2023) model comes in hot, not just in terms of impressive gaming performance but inevitably temperature-wise, too. While it sometimes matches the more expensive gaming laptops in this year's lineup, the rest of the spec lets it down.
PC Gamer score: 70%
Read our full Asus ROG Strix Scar 16 (2023) review.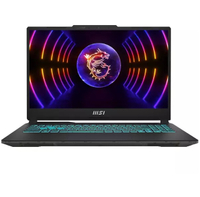 MSI Cyborg 15 | Intel Core i7 12650H | Nvidia RTX 4060 | 16GB DDR5-4800 | 512GB SSD
While quiet and cool, the MSI Cyborg 15 lacks the oomph expected of an RTX 4060-powered gaming laptop. Frustrating software and a lack of upgradeability make for a clumsy attempt at a competitively priced machine.
PC Gamer score: 50%
Read our full MSI Cyborg 15 review.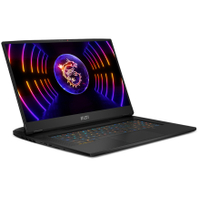 MSI Titan GT77 HX | Intel Core i9 13950HX | Nvidia RTX 4090 | 64GB DDR5-4000 | 4TB SSD
For this much money I want my machine to feel special, not like it's struggling to cope with the top-rated hardware baked inside it. The MSI Titan feels like a gaming laptop running at the ragged edge of performance and decency. Its excess feels vulgar, not special, and I simply cannot recommend it on raw performance alone.
PC Gamer score: 53%
Read our full MSI GT77 HX review.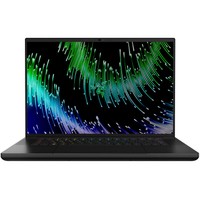 Razer Blade 16 | Intel Core i9 13950HX | Nvidia RTX 4090 | 32GB DDR5-5600 | 2TB SSD
This top Blade 16 spec delivers outstanding performance, in both gaming and productivity terms, and retains the classic Blade styling. It also comes with the best laptop screen I've ever used. But inconsistencies in the experience, and a punitive price tag makes it difficult to recommend.
PC Gamer score: 76%
Read our full Razer Blade 16 review.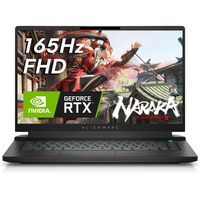 Alienware X14 | Intel Core i7 12700H | Nvidia RTX 3060 6GB | 16GB PLDDR5-5200 | 1TB SSD
An aesthetically pleasing laptop with solid 1080p gaming performance that falters only in the face of its more aggressively-priced competitors. Still, if you've got the cash, this is a respectable choice of hardware.
PC Gamer score: 78%
Read our full Alienware X14 review.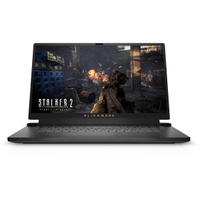 Alienware m17 R5 AMD | AMD Ryzen 9 6900HX | AMD Radeon RX 6850M XT | 1080p | 240Hz |
The config I suggest is a little less overkill than what was reviewed. Instead of the 4K display, a speedier 1080p 240Hz display is a better fit in order to maximize frames on some of your favorite games and save a couple of bucks.
PC Gamer score: 83
Read our fully Alienware m17 R5 review.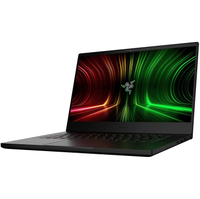 Razer Blade 14 | AMD Ryzen 9 6900HX | Nvidia RTX 3070 Ti | 16GB DDR5-4800 | 1TB SSD
Not a lot has changed since the first-gen Blade 14, and maybe this RTX 3070 Ti spec is too expensive for me, but it does make for a stunning, small form factor gaming laptop. And I am absolutely sold on the 1440p screen at the 14-inch scale, too. It's pin-sharp, bright, and colourful. The price premium is tough to swallow in relation to the similarly performing Asus G14 and for that reason, the RTX 3060 Blade 14 still feels like the better value, better-balanced machine to me.
PC Gamer score: 83%
Read our full Razer Blade 14 review.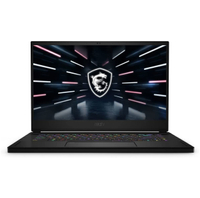 MSI Stealth GS66 | Intel Core i9 12900H | Nvidia RTX 3070 Ti | 32GB DDR5-4800 | 2TB SSD
A very, er, insistent cooling array certainly wants you to know the Stealth GS66 is doing something. And what it does, it does pretty well, but the pricing and the strange spec choice, combine with the gaming volume to make it a tough machine to love or to recommend.
PC Gamer score: 73%
Read our full MSI Stealth GS66 review.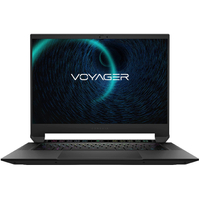 Corsair Voyager a1600 | AMD Ryzen 9 6900HS | AMD Radeon RX 6800M | 32GB DDR5-4800 | 2TB SSD
The Corsair Voyager makes for an intriguing laptop for streamers, but it's isn't quite there yet when it comes to functionality and polish. There are some neat features on display—including the best laptop keyboard you'll ever use—but it's a too pricey for the performance on offer.
PC Gamer score: 72%
Read our full Corsair Voyager a1600 review.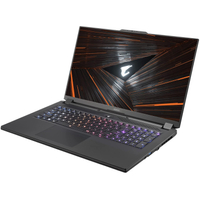 Gigabyte Aorus 17 XE4 | Intel Core i9 12700H | Nvidia RTX 3070 Ti | 16GB DDR4-3200 | 1TB SSD
The Gigabyte Aorus 17 XE4's strong core specification focuses on what matters to gamers, although it's undermined by its noisy operation and its sheer sizes isn't for everyone.
PC Gamer score: 84%
Read our full Gigabyte Aorus 17 XE4 review.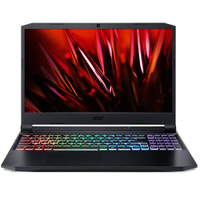 Acer Nitro 5 | AMD Ryzen 7 5800H | Nvidia RTX 3070 | 16GB DDR4-3200 | 1TB SSD
The Acer Nitro 5 doesn't look like much, but it's a modestly powerful mid-range gaming laptop that'll check a lot of boxes for you. For others, it's a low-key laptop that they wouldn't be embarrassed to take out in public to sneakily play video games at a coffee shop.
PC Gamer score: 83%
Read our full Acer Nitro 5 review.
How to buy the best gaming laptop
Where are the best gaming laptop deals?
In the US:
Amazon - RTX 3050 laptops from Acer and Dell starting at $650
Walmart - cheap Gateway laptops. Remember them?!
B&H Photo - up to $500 off Lenovo, Asus, & MSI gaming laptops
Target - sub-$1,000 gaming laptops
Staples - up to $300 off MSI gaming notebooks
Lenovo - $1,000+ discounts on Legion laptops
Newegg - $500+ off RTX 30 series gaming laptops
Best Buy - save up to $500 on gaming laptops
Microsoft - up to half price on last-gen laptops
Dell - save over $300 on Dell and Alienware gaming laptops
In the UK:
Amazon - save on Asus, Razer, and Acer gaming laptops
Dell - Alienware and Dell Gaming laptops with up to £500 off
HP - Save £450 on HP Omen laptop powered by an RTX 3070 Ti
Overclockers - gaming laptop deals and components
Ebuyer - RTX 3060-powered gaming laptop for just £799.98
Very - save up to £450 on RTX 3070 MSI gaming laptops
Box - Just £1,916.99 for a Razer Blade 15 Base gaming laptop
Scan - up to £400 off gaming laptops from different manufactures
What's the most important gaming laptop component?
When it comes to gaming, the obvious answer is the graphics card, but that's where things have gotten a little more complicated recently. With GPU performance now so dependent on cooling, you have to pay attention to what wattage a graphics card is limited to and what chassis it's squeezed into.
As we said at the top, an RTX 3080 confined in an 18mm chassis will perform markedly slower than one in a far chunkier case with room for higher performance cooling.
Should I worry about what the CPU in a gaming laptop is?
That really depends on what you want to do with your laptop. An 8-core, 16-thread AMD Ryzen chip will allow you to do a whole load of productivity on the road, but honestly, it will have little benefit in gaming. That's one of the reasons Intel has launched its Tiger Lake H35 chips; they're quad-core, 8-thread CPUs, but they're clocked high to deliver high-end gaming performance when paired with something like the RTX 3070.
What screen size is best for a gaming laptop?
This will arguably have the most immediate impact on your choice of the build. Picking the size of your screen basically dictates the size of your laptop. A 13-inch machine will be a thin-and-light ultrabook, while a 17-inch panel almost guarantees workstation stuff. At 15-inches, you're looking at the most common size of the gaming laptop screen.
Are high refresh rate panels worth it for laptops?
We love high refresh rate screens here, and while you cannot guarantee your RTX 3060 will deliver 300 fps in the latest games, you'll still see a benefit in general look and feel running a 300Hz display.
Should I get a 4K screen in my laptop?
Nah. 4K gaming laptops are overkill; they're fine for video editing if you're dealing with 4K content, but it's not the optimal choice for games. The standard 1080p resolution means that the generally slower mobile GPUs are all but guaranteed high frame rates, while companies are slowly drip-feeding 1440p panels into their laptop ranges.
A 1440p screen offers the perfect compromise between high resolution and decent gaming performance. At the same time, a 4K notebook will overstress your GPU and tax your eyeballs as you squint at your 15-inch display.