If I had things my way I would have replaced my dining room chair and table to make way for a sim racing cockpit. Unfortunately, I don't have the final say on that one. Apparently communal eating spaces are important, so I've been waiting very patiently to finally get the space to set up the Playseat Trophy Logitech G Edition.
It was worth the wait. This is a fantastic-looking sim racing cockpit. I have high expectations for the build quality of Logitech gear, but seeing as this is a Playseat creation with the Logitech logo and styling slapped on it, I wasn't sure what to expect. Thankfully, it's absolutely as well-made as I was hoping for.
What you get is both a sim racing wheel and pedal mount and a built-in racing seat-style chair. Though the chair is more like a hammock, in actual fact, due to how it's strapped on around the rear of the cockpit. It's extremely comfortable, however, and I'm sitting in it right now as I type out this review.
My biggest pet peeve with sim racing at home is that I'm often pushing and sliding my pedals away from me as I race. It's incredibly frustrating and has psyched me out of my own timed laps before. So, I needed a fix, and this is the fanciest fix of all.
I've also been testing out the Monoprice Dark Matter GT Foldable Racing Wheel Stand these past few days, which is a much more affordable way to fix that pedal problem at $153. Thing is, without the chair bit, it's far less comfortable, and it doesn't put you into much of a racing position. It's one way to fix the problem, but the Trophy is something else.
With the Trophy, it feels like I'm levelling up my sim racing setup ten times over. I had all the important parts for a while—the wheel, the base, the pedals—but they felt quite muted by the inconvenience of setting them up on a desk. The seating position is all wrong, which leads to faster fatigue, especially in the arms and ankles, and the pedal slippage was extremely mind-melting at times.
That's all gone with the Playseat Trophy. Provided you can slot it in under your desk and tilt your PC's screen down easily in order to play, it offers a naturally easy-going racing position. My arms are stretched out at a good distance, my legs too, and I'm not having to work hard to make do with a cramped or uncomfortable space.
I've raced in plenty of cockpits before, but primarily at events. Having this sort of setup at home has genuinely rekindled much of my love for sim racing.
But, gosh, there were times during setting up the Trophy that I had my doubts. The Playseat comes mostly in parts, and there are an exorbitant amount of screws required to put it together. The main struts of the frame are firmly held in place by some six to 12 screws at each connection, and the adjustable backrest and frame needs assembling and tweaking to your height, which involves some screwing around.
The chair is much easier to adjust. It's essentially hanging from the frame via some heavy-duty velcro straps. It's extremely comfortable once you're in there, as it's sort of like a very firm, padded hammock. There's also an adjustable belt around the back of the chair to support your lower back, but I'm still working on getting that in the exact right position. My only concern is what happens when the velcro wears out, but we'll cross that bridge when we get to it.
Race on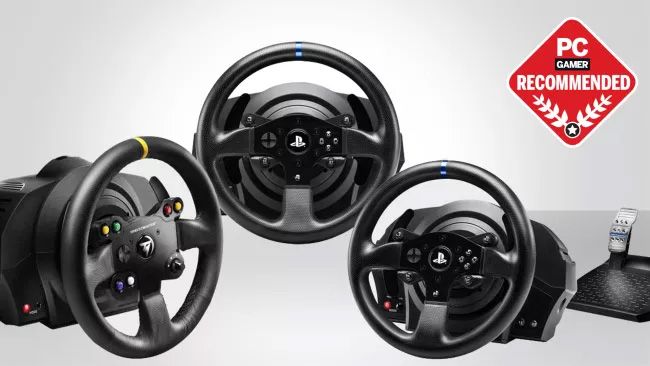 Best PC racing wheels : perfect for any circuit.
Best VR headset: which set is right for trackdays?
The Trophy is a massive lump, however. Unlike the foldable Dark Matter GT, you'll have to find somewhere to store the Playseat Trophy in its entirety, as you're not taking this thing apart to put it away. You'd never use it again. As such, it's definitely a luxury to have any space for such a thing.
It feels luxurious to race in, though. You can tweak it so it's just right with the granular, often sliding, adjustments for the pedals, frame, and chair angle. Ideally you can get to a point where your feet and arms are perfectly placed to achieve the most movement and attack for racing, without getting tired.
The elephant in the room, then, is the price. At $599/£529, it's nearly four times the price of the cheaper Dark Matter frame. Though they're not the same, neither in what they offer or how well put together they are. The full cockpit experience is, as I've said, a luxury, and if it's a luxury you can afford then I recommend you check out the Playseat Trophy.