There are dozens of Sims 4 DLCs and it can be a dang headache trying to keep track of which expansions, game packs, and stuff packs are actually the best additions to the game. That's especially true now, when several packs have overlapping themes and there's a new, even smaller DLC type called Kits compounding the confusion.
More Sims series
Sims 4 cheats: Life hacks
Sims 4 mods: Play your way
Sims 4 CC: Custom content
Sims 4 DLCs: Worth it?
Sims 5: What we know so far
Now that the Sims 4 base game has gone free to play, you can try it out before deciding if you want to spend money on DLC. If you do take the plunge, this list of the best Sims 4 DLCs will guide you toward the most valuable add-ons. To do that in 2022, we've set aside the increasingly meaningless distinctions between game packs and expansions or stuff packs and kits. Instead, we'll just tell you how much each DLC costs and what types of things it adds to the game.
Here's what to expect from a Sims 4 DLC: New worlds are their own neighborhoods (some bigger than others) with buildable lots and usually community areas too. "CAS" items are all the Create-A-Sim additions like hairstyles, clothes, and other Sim customization. Build/Buy mode items are furniture, décor, fixtures, and sometimes landscaping. Gameplay additions can really range from big to small, but we'll outline what the pack actually does in each case.
One final note: Sims 4 DLCs go on sale quite often, so if you want to save a little money, wait for discounts to show up and then reference this page to make sure you're getting the most for your money.
High School Years
Price: $40/£35 | Includes: New world, CAS items, Build/Buy items, gameplay
While several of The Sims 4 expansions are the newest take on expansions from past games, High School Years is a first time experience for the series. You can finally attend school with your teenage Sims, directing them through all its highs and lows: social media, prom, homework, sneaking out their bedroom windows. The new school lot type is a great challenge for players who love building, with tons of new furniture fit for the classroom and plenty for your teen Sims' bedrooms too. All the CAS clothing additions are on the trendy side, which is fitting for the new ability to thrift clothes and set style trends. Oh, and this pack brought body hair to the base game for the first time, with lots of specific CAS options in the expansion itself.
Seasons
Price: $40/£35 | Includes: CAS items, Build/Buy items, Gameplay
Seasons sounds like it could just cover the weather, but there are plenty of holidays and seasonal activities to get stuck into as well. In Autumn/Fall it's great to take part in the wholesome Harvestfest festivities, cook a big feast, and watch as pesky Holiday Gnomes spring up in your house. Love Day, Winterfest, and New Year's Eve are scattered across the rest of the year to persuade us to splash the cash on some decorations, open presents, and celebrate. There are even surprise holidays like 'Prank Day', and smaller hobbies to try like flower arranging.
Considering we're on the fourth instalment of the Sims, you'd think Seasons would be baked into the base game at this point. Sadly, we still need to part with our hard-earned pennies to experience dynamic weather. It's definitely worth it to trudge through snow in puffy coats and see the look on your Sim's face when they're scared of thunder.
City Living
Price: $40/£35 | Includes: New world, CAS items, Build/Buy items, gameplay
There's no way I'll ever be able to afford a three-bedroom apartment in London, so I'll just have to stick with the City Living expansion to simulate what it's like to live a lavish metropolitan lifestyle. There are festivals to attend, neighbours to embarrass yourself in front of at Karaoke bars, and not to mention a swanky view of the cityscape right outside your window. This expansion also introduces new careers including positions in Social Media, the Arts, and Politics. Remember, you'll still need a well-paying job to live your dreams in the big apple.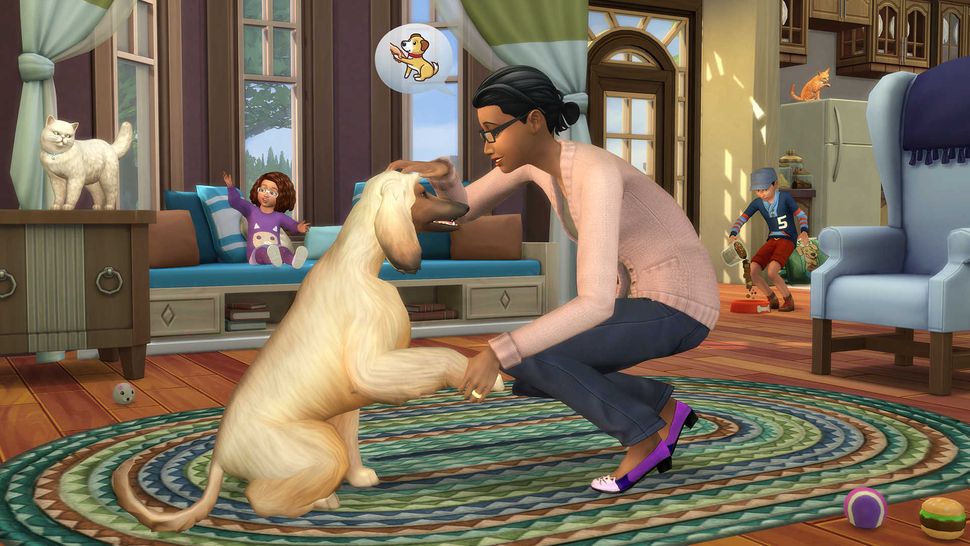 Cats & Dogs
Price: $40/£35 | Includes: New world, CAS items, Build/Buy items, gameplay
The name gives it away, and if you're an animal lover this is a must-buy. Not only can you create the perfect pooches and kitties, you can customise their coats to have green spots, or pink boots, if that's your thing. This expansion adds Brindleton Bay to your neighbourhood, an area that's brimming with parks that are perfect for walking your pets. If you're keen to make petcare your sim's priority, you can also follow the veterinarian career path, and build your own clinic, which is a lot easier than the five years you'd have to spend studying in real life.
Discover University
Price: $40/£35 | Includes: New world, CAS items, Build/Buy items, gameplay
College life is when you're supposed to experiment, and this expansion gives your sims lots to do as they work towards their degree. Not only does this pack have some of the best Create-A-Sim items in the game, it's nice to take a break from managing a household to hang around on campus and get whisked away into some student shenanigans. There are two universities to choose between and each has a unique culture to soak up. Naturally, this pack is filled with new careers and skills, including branches into the Law, Education, and Engineering sectors.
Get to Work
Price: $40/£35 | Includes: New world, CAS items, Build/Buy items, gameplay
Work is probably the last thing you want to think about when you're sitting down for a long Sims session with a cuppa, but I promise this work is fun. If you've ever dreamed of running your own business, you can get your sims to take all the risks and build their art galleries, bakeries, and fashion empires from the safety of your computer chair. You can also follow the Detective, Doctor, and Scientist career paths, which introduces aliens to the game. It's up to you whether you decide to fully embrace your extra terrestrial powers of erasing minds and analysing other sims, or go under the radar as a human.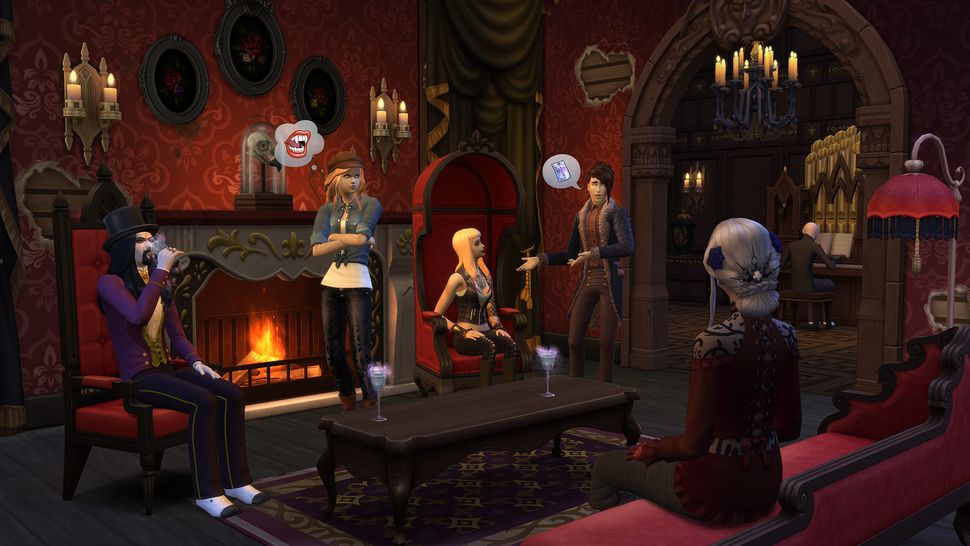 Vampires
Price: $20/£18 | Includes: New world, CAS items, Build/Buy items, gameplay
Supernatural packs aren't to everybody's tastes, but if you're keen on exploring the occult, Vampires is a great place to dive in. Your vampires will have a range of abilities: they can unlock doors in other homes, make their enemies hallucinate, or enter the minds of other Sims to learn all about their personality traits.
The thirsty undead have weaknesses to spice up our playthroughs, too. Your sim might hiss uncontrollably during conversation or—my favourite—feel guilty when chomping on the neck of somebody without their permission. Speaking of which, vampires don't have hunger or bladder meters, and instead need to keep their Vampire Energy topped up, which completely changes your daily routine. Supernaturally, there are also lots of spooky candlesticks, coffins, and spiderwebs with which to kit out your creepy mansion.
Werewolves
Price: $20/£18 | Includes: New world, CAS items, Build/Buy items, gameplay
Like Vampires, the Sims 4 Werewolves pack includes a new paranormal form and a new neighborhood. This is a pretty killer DLC, adding lots of new CAS clothes and hairstyles, new cabin aesthetic décor, and a customizable werewolf form that borrows the pretty expansive fur editing choices from the Cats & Dogs expansion. There's new Werewolf gameplay that forces you to manage your rage so you don't involuntarily change, two rival werewolf pack factions to join, and a pretty cool community, too. The neighborhood is much bigger than it appears. Although there are only five editable lots (one empty, one starter home, two community lots, and an inhabited house) there's tons of community space to freely explore, including the two werewolf pack hangout spots.
Parenthood
Price: $20/£18 | Includes: CAS items, Build/Buy items, gameplay
Parenthood expands the horizons of both young Sims and care-givers. On the child's side, it introduces a new set of attributes that track development, including how responsible they are, or how well they have their emotions in check. It feels more meaningful than just watching meters tick up and down, with Sims able to gain new traits—good and bad—that will affect them later in life.
The expansion makes being a parent feel like a proper job, rather than just something passive. Trying to control an unruly toddler is challenging, and you'll need to find the sweet spot between much-needed discipline and being lax parenting. Children and teens also have more traits like, for example, being picky eaters. It's nowhere near as stressful as being a real-life parent, but it adds a lot of depth that was missing in the base game.
Tiny Living
Price: $10/£9 | Includes: CAS items, Build/Buy items, gameplay
Andy couldn't stop building tiny houses when this expansion launched, and Chris got creative as he tried to cram everything into his titchy builds. If City Living's huge apartments are feeling a bit echoey and you're looking for a challenge, this stuff pack will make you question what you really need in your living quarters. There are pull-down beds and genius space-saving items in the build/buy menu. The Create-A-Sim additions also look super cute and comfortable.
While this is one of the cheaper add-ons, it offers exceptional value for money as it shakes up the gameplay and feels very different to how a lot of us usually approach the Sims. Rather than save up our Simoleons to fill our space with pretty junk, it encourages us to furnish a cosy home with the essentials.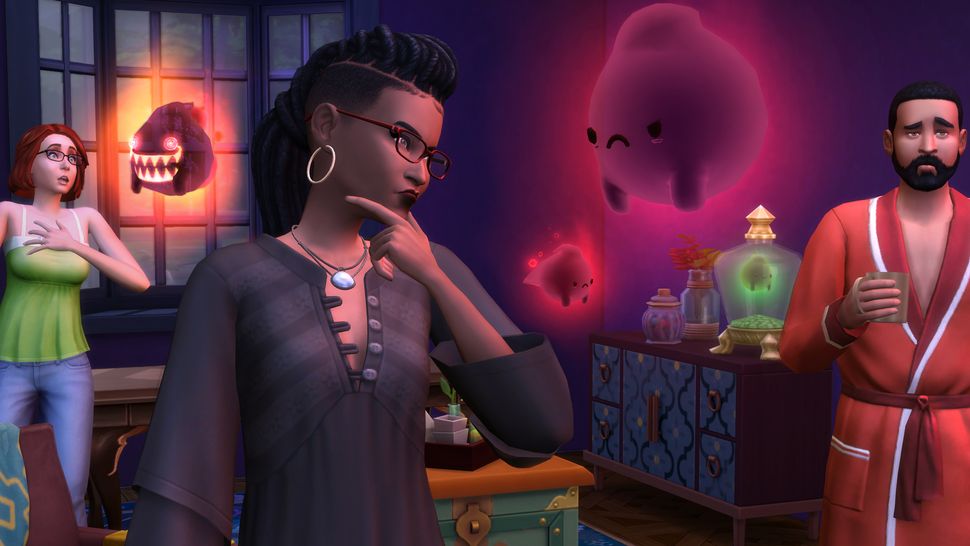 Paranormal
Price: $10/£9 | Includes: CAS items, Build/Buy items, gameplay
Whether you're dead set on ghost hunting, or want to have a chat with some friendly spirits, you'll need this stuff pack to get your Paranormal Investigator license. Just like Tiny Living, this DLC is surprisingly reasonable for the content it offers. The Ghost Hunter profession that we first tried in The Sims 3 has been resurrected here, and haunted houses have been added as a new lot type. It's fair to say that performing seances changes the course of your daily routine, and it's a blast from the past reuniting with Makin' Magic's Bonehilda.
Laundry Day
Price: $10/£9 | Includes: CAS items, Build/Buy items, Gameplay
Laundry stuff is a really nice midpoint pack if you really want to torture your Sims with the minutia of real life. We once called it the best and worst thing to happen to The Sims 4, because the addition of laundry feels pleasingly realistic even if the reality of having to keep up with it is less pleasant for your Sim's schedule. Sims will chuck their clothes in the nearest hamper when they change, which they'll also need to empty and wash when it gets full. This DLC comes with several cute floral CAS choices, a few hair styles, and different washing choices in Build/Buy mode. There's the washer and dryer appliances or a washboard and clothing line for the off-the-grid or space conscious Sims.
Little Campers
Price: $5/£5| Includes: Build/Buy items
The Little Campers kit is a tiny one, but it's a two-in-one set of items that we don't often get more of in Sims 4: kids stuff and outdoor stuff. It's all about camping out in the backyard with cute portable and kid-friendly décor. The highlights here are definitely the big hanging bed sheet lined with string lights that your Sims can watch movies projected on, the fire pit for marshmallow roasting, and the big blanket fort also decked out with lights. This is a string light stuffed pack, really.