The Sims 5 has finally been announced and, much to our surprise, Electronic Arts has already started rolling out small peeks at features for the next main Sims game.
More Sims series
Sims 4 cheats: Life hacks
Sims 4 mods: Play your way
Sims 4 CC: Custom content
Sims 4 DLCs: Worth it?
Sims 5: What we know so far
Right after making the base game Sims 4 free-to-play and committing to continued gameplay updates and DLCs, Maxis also let on that it's actively developing the Sims 5, even though that may not be its final name.
Unlike development on past Sims games, Maxis is even committing to showing off some of its in-development features years in advance. So while we still have a lot of open questions about the next Sims game, we've actually had some of our speculation answered already. Here's everything we know so far about the next Sims game, including new (and returning) features, early gameplay footage, and the rumors about multiplayer.
So is Project Rene the name of The Sims 5?
For now, yes, but likely not forever. As Maxis explained, Project Rene is essentially the codename for the next Sims game. Usually these are used internally to talk about a game before it's been announced, but occasionally developers will use these titles publicly too. Think of Riot's Project L, for instance. Presumably, the next Sims game won't be called either "Project Rene" or "The Sims 5" and will have a totally different name that communicates the way that Maxis has been referring to it as the "next generation" of Sims and a "creative platform."
Does The Sims 5 have a release date?
Electronic Arts has not given a release date or year for the next Sims game yet. When it was first announced as Project Rene in October 2022, Maxis said it planned to share inside looks at development "over the next few years" so we can safely assume that The Sims 5 won't launch any time before at least 2024.
Another detail to know about The Sims 5 is that Maxis expects it to be around for a while when it does eventually launch. The Sims 4 launched in 2014 and it seems like Electronic Arts is expecting the "next generation" of The Sims to stick around at least as long. So far, creative VP Lyndsay Pearson said "I have the privilege to help usher the franchise into the next decade and beyond," during the Project Rene reveal. It was a lot of buzzword corporate speak, honestly, but it feels safe to assume that the next Sims game is going to have a lengthy lifetime.
Check out a peek at some early Sims 5 gameplay
As Maxis said, the clips it showed off during the Behind the Sims Summit in 2022 were early on in development, likely not reflective of final gameplay or visual style. But in a loose sense of the word, we did see a tiny bit of early gameplay footage.
Here are some of the features we've seen:
The Create-A-Style tool from Sims 3 is back
Cross-platform multiplayer build mode
Uploading a custom selection furniture layout to the Gallery
Modular furniture editing, including accent pieces
Multiple axis rotation, at least for accent pieces
Create-A-Style making a return is definitely a win for Build Mode fans, especially with the addition of modular pieces. In the initial reveal, we saw how players will be able to swap pieces like the headboard and footboard of a bed separately and edit patterns and colors too. Another improvement on the style tool of old is the ability to add accents like throw pillows and blankets to a couch, which we also saw lots of in the initial Project Rene video.
Another bit of the first reveal that players are speculating on is whether apartment lot types will be a part of the next Sims base game. The first footage we saw did make the space it was editing look a bit like one unit connected to others.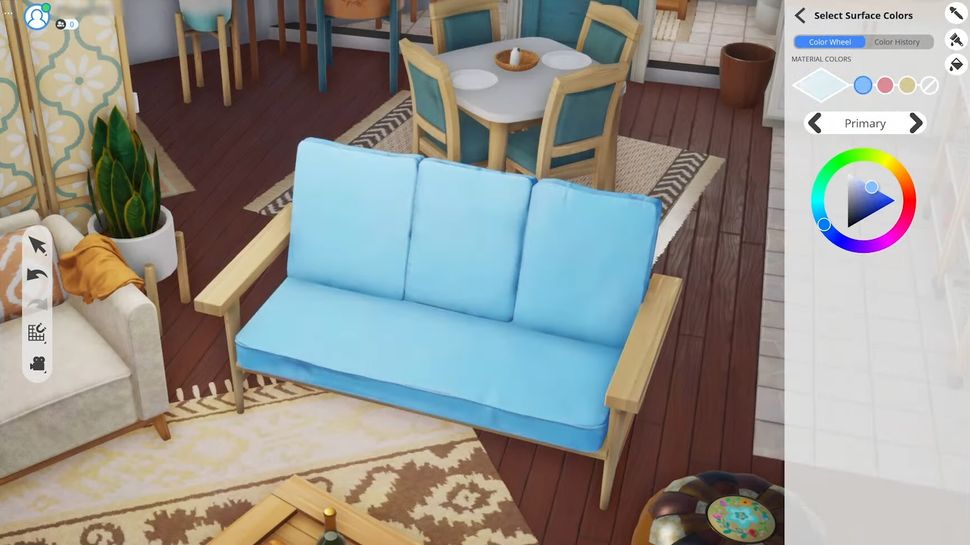 Will the Sims 5 have multiplayer?
The Sims 5 will have multiplayer, but it's definitely not an MMO, Maxis has confirmed. "It is not this public, shared space where everything you do is always with other people," its game director said. Maxis was originally very non-specific about what exactly the multiplayer would entail, but we got a little more clarity during a Behind the Sims livestream in January 2023.
Game director Grant Rodiek explained that multiplayer will be totally up to players, inviting friends when the want to collaborate or playing solo. During the livestream we briefly saw several players moving furniture around a room simultaneously.
When it comes to Live Mode multiplayer, we don't know if or what Maxis is planning yet. What we've heard are the few comments from Electronic Arts CEO Andrew Wilson during a financial call in 2020.
"As Maxis continues to think about The Sims for a new generation—cross-platforms and a cloud of a neighborhood world, you should imagine while we will always stay true to our inspiration, escape, creation, self-improvement, motivations—that this notion of social interactions and competition like the kind of things that were actually present in The Sims Online many many years ago—that they will start to become a part of The Sims experience in the years to come," Wilson said.
The Sims 5 will be "free-to-enter," based on job postings
Based on a since-pulled EA job posting, it looks like The Sims 5 will have a free-to-play base game, following in the footsteps of The Sims 4's free-to-play transition. The posting listed "Own Project Rene's in-game marketplace of content and UGC (free and paid)" and "Own pricing of all content in this free-to-enter game" as two of the role's major responsibilities, seeming to indicate that the game will rely on DLC like its predecessors expansion packs, kits, and the like.

The mention of "free and paid UGC" also makes it seem like EA is intending to allow modders to sell user-generated content through an in-game marketplace, with EA taking a cut of the profits in exchange for use of the platform. With Sims mods already earning money for creators on third-party platforms like Patreon, it's no surprise that EA would try to get their hands around the potential revenue stream. As for what kind of terms EA might expect Sims UGC creators to operate under, we'll have to wait and see.
The Sims 5 will let you play your saves across devices
Maxis has so far talked about developing the next Sims game for PC and mobile, showing off a small look at decorating with both. During its Behind the Sims livestream in January 2023, Game director Grant Rodiek talked about how it will be possible to play on one device for part of your day and then move to another to pick up where you left off.
"You can have that deep dive at home on your PC, play for four hours, change every single thing about a piece of furniture that you imagine: typing in RGB values," Rodiek said. "But then on the go, you can grab your phone and maybe it's a different experience. Maybe you're grabbing archetypes, preselecting templates, or grabbing the stuff you've already created."
Will Sims 5 support mods and custom content?
While we don't know the answer for sure, the Sims series has a long history of user created content across its games.
To this day Sims 4 mods continue to be massively popular, to the point where The Sims 4 now has official mod support with a CurseForge hub—and it's difficult to imagine that Maxis wouldn't be taking the same approach with Sims 5 and opening the doors wide for custom content. But as far as what form this will take, or if it will come with the initial release of Sims 5 or further down the line, the question is still up in the air for the moment.
Maxis is dropping Sims 5 dev updates on YouTube
In its recently-started "Behind The Sims" YouTube series, Maxis is providing previews and development updates for The Sims franchise, including updates on the development of The Sims 5. Project Rene is still extremely early in the development process, but it's worth a watch to hear the developers describe what design ideas they're trying to elevate as development progresses. In the June 27, 2023 episode, we saw Sims 5 lighting and animation prototypes, early modeling of daily routine behavior, prototype hair color customization tech, and a glimpse at how the devs are experimenting with UI elements to make understanding social interactions between Sims more visually intuitive.
Are there any Sims 5 leaks in the wild?
The Sims 5 might be years off, but there are already some holes in this particular bucket. The first credible Sims 5 leaks appeared in November of 2022 in a Reddit thread from a now-deleted account, which shared some monitor photos taken of early Sims 5 playtest gameplay. You can find those photos reposted on Twitter and elsewhere.
While any supposed leaks should be taken with a grain of salt, the interface in these images matches up with what's shown in the Sims 5 reveal, which is a point in favor of their legitimacy. They also feature our first look at the next game's neighborhood view, indications that apartments will be a base-game feature, and some glimpses of the feature ecosystem around player-designed furniture.
As of January 2023, Maxis has mentioned that it's been taking the build/buy mode for apartment customization into small groups of playtesters, so it seems very likely that's where these leaks originated.