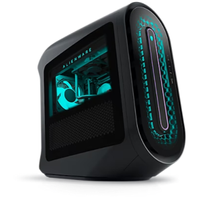 Alienware Aurora R15 | Intel Core i9 13900F | Nvidia RTX 4090| 1TB SSD | 32GB RAM | $4,229.99 $3,299.99 at Dell (save $930)
You won't find a similarly specced RTX 4090 desktop at this price, anyway. It has a powerful, last-generation CPU that will require a new motherboard if you want to upgrade in the future. You're still getting a lot of bang for your buck if you're looking for a beefy 4K gaming rig.
It's been a while since we've spotted a deal on an RTX 40-series desktop, let alone one with RTX 4090 GPU. But here we go: Dell has an Aurora R15 gaming desktop deal with an RTX 4090 for $3,299, over $900 off its regular price.
While $3,300 is a heck of a lot of money, it's a really good price for a 4K gaming rig, especially when you run down the components list.
This beastly PC has got a 13th Gen Intel Core i9 13900F CPU and an RTX 4090 GPU combo with 32GB of DDR5 RAM. This means you should be able to play something like Resident Evil 4 Remake in 4K with all the graphical bells and whistles turned on and still get an impressive frame rate.

The RTX 4090 is a powerful 4k gaming GPU with high clock speeds. Toss in Nvidia's framerate generation tech, DLSS 3, on games that support it, and you'll have a fast feast for the eyes, assuming you've got a 4K gaming monitor with a high refresh rate that's up to the task.
Again, this isn't a "cheap" system by any means, but it is the best price we've seen for an RTX 4090 system, considering the GPU sells for almost $2000 on its own on some retail sites.
The 1TB SSD NVMe storage is a good starting spot, though I'd probably pop in an additional 1TB with the money you save. Some of the best NVMe SSDs have never been cheaper, and if we're being honest, 1TB fills up faster than you'd think.
The only downside is that the motherboard is a bit older, even though it does support DDR5. If you want to upgrade to Intel's new Raptor Lake CPUs, you'll have to invest in something like a B760 motherboard.