PC hardware and gaming are like a perpetual arms race for the enthusiast's money. Games continue to excel at technical levels with realistic graphics, audio, and physics engines that demand more and more out of our little machines. Even without jumps in computation, storage alone can be a constant battle forcing you to decide which 100GB game you'll need to delete for your newest adventure. Or you could just buy some more storage with Samsung's current sale.
Samsung is having a sale across a range of its SSDs over on Amazon and the official Samsung store. For PC gamers there's big savings on M.2 format drives, and there's plenty on offer for console gaming fans too.
You can grab a 1TB stick of Samsung's 990 Pro NVMe M.2 SSD with a 41% discount down from $170 to $100 on both Amazon and the Samsung store. For Aussies, that brings the price to AU$155. The 990 Pro is a great choice for any PCIe 4.0 compatible build, basically maxing out the protocol in our review testing. One of our main concerns was the price, but with $70 off it's a much more friendly offer at the moment.
If 1TB isn't going to hold all of your games you can get the 2TB 990 Pro for 38% off. This one is down to $180 from $240. That's an extra $80 for another whole TB of storage, which looks like an even better deal when compared to Samsung's deal on the 980 Pro.
The 980 Pro is also on offer, but with the 990s on offer for only $10 a pop more they're a harder sell. Still if you've been eyeing one, the 1TB are available for $90 on the Samsung site while the 2TB drives are down to $158 in the current Amazon sale.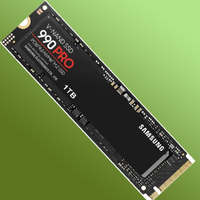 Samsung 990 Pro | 1TB M.2 NVMe SSD | PCIe 4.0 | $169.99 $99.99 at Amazon (save $70)
There's plenty on offer in this storage sale from Samsung. Our pick of the bunch for hardcore PC gaming fans is the 990 pro SSD. This small storage stick puts PCIe 4.0 to the limits while storing 1TB worth of your favourite games.
It's worth noting there were reports of both 980 and 990 drives declining in performance rapidly when released, but that should be fixed with an already released patch. Still it'd be a good idea to update your firmware with any of these SSDs as soon as they make it into your PC just to be extra safe.
PlayStation 5 owners can get just that little bit more smug with the compatible 1TB 980 Pro with heatsink currently going for $100, saving $40 on both Samsung and Amazon. The 2TB is also on offer for $60 more at $160 which is 24% off the regular price for the unit.
For Xbox enthusiasts or anyone looking for a USB drive, Samsung has a few offerings here too. The most worthwhile of the bunch is the T7 Shield range with the 2TB model currently going for $70 off on the Samsung Website, down from $200 to $129. The 4TB is also on sale for $270 down from $350.
Some of these deals have been harder to find on Amazon than they are on the official Samsung site, so a good look there first might be best practice. The deals appear to stretch across a few regions and currencies too, so there's a good range for gamers from all stripes and corners of the globe.