GPU's are back, baby. Actual graphics card deals are sneaking back onto the shelves. It's been a minute, but finally the supply chain situation has eased up, stock is flowing, and cryptocurrency miners are too busy crying about their collapsing collective house of cards to worry about harvesting any more GPUs.
Not only are we able to find pretty much any graphics card we might want readily in stock, right now, but the prices are also no longer as inflamed as they were. Of course, Nvidia cards are still frustratingly higher than their MSRPs, but that looks to be improving day-on-day. In fact, it recently slashed the prices of its most expensive cards by up to $500 (opens in new tab), with the promise that: "After a long period of supply shortages we are taking action with our partners to deliver a limited time promotion for enthusiast gamers and serious creators."
In reality, trying to shift the top-tier GPUs that'll be outdated quickest when this year's new generation of GeForce graphics cards launch. On the AMD side, we have actually seen below-MSRP discounts on some Radeon GPUs. And I'm not just talking about $50 off a $1,000 RX 6900 XT, either. For a while around Amazon Prime Day (opens in new tab) this year, there were actual cards worth buying as low as $255.
Not all the best graphics cards for PC gaming (opens in new tab) have stellar discounts on them, and it's worth being cognizant of the impending next-gen GPUs if you have an eye for a new high-end graphics card with a seemingly healthy discount. But we've grabbed a host of the best GPU deals, from the very top cards to the very cheapest to help you make a choice. Ain't we good to you?
Graphics card deals
XFX Speedster RX 6900 XT MERC319 | 16GB GDDR6 | 5,120 shaders | 2,365MHz Boost | $1,399.99 $899.99 at Amazon (save $500) (opens in new tab)
Sitting somewhere between the RTX 3080 Ti and RTX 3080 in terms of performance, the RX 6900 XT's pricing is starting to make a bit more sense. I mean, it's still a silly price for a graphics card, but if you're going to buy a high-end GPU today it's a great saving. Though high-end graphics cards are likely to be superseded faster than mid-range GPUs, and probably by the end of the year.
Gigabyte RTX 3080 Gaming OC | 10GB GDDR6X | 8,704 Shaders | 1,800MHz Boost | $839.99 $799.99 at Newegg (save $40) (opens in new tab)
This is the original take on the RTX 3080, which means you get 10GB of GDDR6X and 8,704 CUDA Cores—256 less than you get with the slightly newer 12GB version of the GPU. Importantly, you can max everything out with this card, even at 4K, and enjoy some serious high-end gaming.
ASRock RX 6800 XT Phantom | 16GB GDDR6 | 4,608 shaders | 2,310MHz Boost | $799.99 $689.99 at Newegg (save $110) (opens in new tab)
When they first launched, the RTX 3080 and RX 6800 XT went head-to-head and could barely be separated. That means, so long as ray tracing isn't right at the top of your must-have list (it really shouldn't be) then opting for the cheaper AMD card is possibly the smarter choice.
XFX Speedster RX 6800 XT MERC319 | 16GB GDDR6 | 4,608 shaders | 2,250MHz Boost | $799.99 $701.35 at Amazon (save $98.64) (opens in new tab)
This isn't as good a deal as the ASRock RX 6800 XT from Newegg, but we've already seen that go out of stock recently, so it's good to have a backup. And it's still a lot cheaper than the cheapest RTX 3080 we've seen and can deliver the same level of gaming performance, too.
Asus TUF RTX 3070 Ti | 8GB GDDR6X | 6,144 shaders | 1,815MHz Boost | $699.99 $683.99 at Newegg (save $16) (opens in new tab)
At this price, the RTX 3070 Ti starts to look like a much more tempting purchase. This is the full-fat GA104 GPU and comes with speedier memory than the standard RTX 3070. But it does trail the RX 6800 XT in terms of performance, so if the prices are close enough for you not to worry about the extra, the AMD card is the one to go for.
XFX RX 6700 XT Speedster Qick | 12GB GDDR6 | 2,560 shaders | 2,622MHz Boost | $529.99 $479.99 at B&H Photo (save $50) (opens in new tab)
The Radeon RX 6700 XT is a great mid-range offering that can take the fight to the RTX 3060 Ti and win, or be close enough as to not matter, excluding ray tracing at any rate. Given this tends to be cheaper than Nvidia's card, this is where the sensible money is. Not a huge saving here, but it all helps.
XFX RX 6700 XT Speedster SWFT309 | 12GB GDDR6 | 2,560 shaders | 2,581MHz Boost | $529.99 $451.23 at Amazon (save $78.76) (opens in new tab)
I am so over XFX's naming scheme for its graphics cards, but suffice to say that this is almost identical to the one above, but with a slightly lower Boost clock. Though how much difference that will make in gaming will be negligible. This one's cheaper though, which is always important.
Gigabyte RX 6700 XT Eagle | 12GB GDDR6 | 2,560 shaders | 2,581MHz Boost | $449.99 at Newegg (opens in new tab)
This RX 6700 XT is $50 cheaper than the lowest cost RTX 3060 Ti we've found, and delivers the same rasterized gaming performance. Ray tracing, it's admittedly slower, but honestly, you're probably not going to want to turn RT on with the Nvidia card, either. This is a quality mid-range card, with a serious triple-fan cooler to boot.
Gigabyte RTX 3060 Ti Eagle | 8GB GDDR6 | 4,864 shaders | 1,695MHz Boost | $499.99 $479.99 at Newegg (save $20) (opens in new tab)
This is as cheap as we've found the RTX 3060 Ti anywhere this Prime Day, but with the highest boost clock of any. The price is still frustratingly above MSRP, but this is still a great graphics card right now, and won't let you down even up to top 1440p settings.
MSI Mech RX 6600 XT | 8GB GDDR6 | 2,048 shaders | 2,602MHz | $399.99 $319.99 at Newegg (save $80 after rebate) (opens in new tab)
Once again the smart money is buying AMD graphics cards at the low end of the GPU market. The RX 6600 XT is both cheaper and faster than the RTX 3060, despite losing out on the memory front. Don't be fooled by that 12GB vs. 8GB thing. The price drops from $339.99 to $319.99 with the $20 rebate card—don't forget to print that out.
PNY RTX 3060 XLR8 Revel Epix-X | 12GB GDDR6 | 3,584 shaders | 1,777MHz Boost | $459.99 $384.99 at B&H Photo (save $75) (opens in new tab)
This compact RTX 3060 would be a great option for that mini-ITX build you've been planning, but couldn't find a graphics card to fit. Or even one you could afford. At just $55 over the original MSRP it's not a bad price for the lowest-spec Nvidia card we'd recommend today.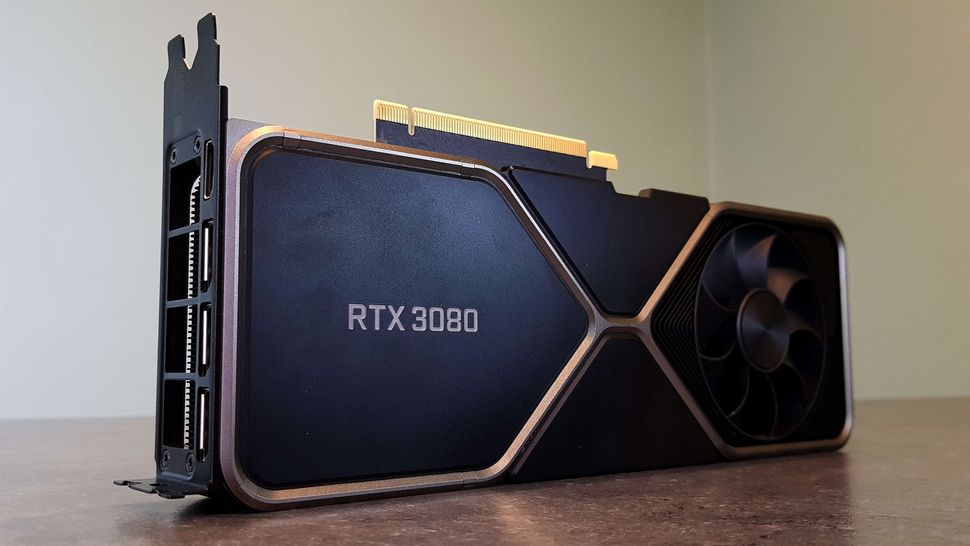 The RTX 3080 is the best graphics card out there today. Well, the 10GB one is, at its original MSRP. You might find it going for a little more than that today, and don't forget the 12GB model that Nvidia later released, which is even more expensive still. Yet whichever model you go for the RTX 3080 represents a huge generational performance boost over the previous RTX 20-series. That's impressive when put up against either the RTX 2080 or 2080 Super, but when you consider that this nominally $699 card can not just match but massively outperform the $1,200 RTX 2080 Ti, it really hits home.
The thing which really stands out from our testing is the difference it makes to ray-tracing performance. The first generation of ray tracing-capable cards required such a huge frame rate sacrifice that most people shied away from turning it on, but that's no longer the case with this generation.
When you can now get ray-traced performance that exceeds the frame rates you'd get out of the top card of the RTX 20-series when running without it, you know that this is a whole different beast. And hey, the RTX 3080 can actually run Crysis (opens in new tab).
Nvidia has managed this by adding a whole load more CUDA cores to the mix in this 8nm GPU and updated Tensor Cores (for extra DLSS goodness) and second-gen RT Cores to make with the ray-traced pretties.
The RTX 3080 may need a fair chunk more power—you'll want at least an 850W PSU—and be tricky to get hold of, but this is the most desirable graphics card around today. Which I guess is also why it's so tricky to get hold of.
If there was one bit of advice for buying a GeForce RTX 3080 it would be that it's worth trying to get your hands on the Founders Edition if at all possible. Pick your expletive, because the RTX 3080 Founders Edition is ****ing great. Far from just being the reference version of the 'flagship' Ampere graphics card, because of that cooler and redesigned PCB, it is the ultimate expression of the RTX 3080. And if you end up with another version of this fine-ass GPU then I'm afraid you're likely to feel a little hard done by.
Chances are you're going to have to make do. The Founders Edition cards are not produced in the same volumes as the third-party versions from the likes of Asus, MSI, Gigabyte, Palit, and Colorful, to name but a few. Given the stock shortages, you're going to be happy with whatever RTX 3080 you can get your hands on. Especially if you can get one near to the MSRP. And besides, some of the cooling options on these third-party cards are impressive in their own right, so it's not all bad by any stretch.
Regardless of which card you get your hands on, the performance uplift you get over the previous generation is huge and pretty much unprecedented. Maybe we've become used to more iterative generational deltas, especially considering the slight difference between the GTX 1080 Ti and RTX 2080, for example. But we're going to continue beating the Ti drum because it bears repeating—the fact the $699 RTX 3080 absolutely smashes the $1,200 RTX 2080 Ti is still staggering.
Nvidia has gone big with the RTX 3080, and the result is an outstanding gaming card that sets a new benchmark for both high-end 4K gaming performance and for ray tracing. As I said at the top, it's the 10GB model we love more for its blend of performance and price, but the 12GB model is still a viable option. Just that much less affordable.
Read our full Nvidia RTX 3080 review (opens in new tab) (10GB Founders Edition).
As a red team alternative to Nvidia's high-end graphics cards, there have been few finer than the RX 6800 XT. A highly competitive card that comes so close to its rival, with a nominal performance differential to the RTX 3080, is truly an enthusiast card worth consideration for any PC gamer with 4K in their sights.
The RX 6800 XT was the first of AMD's RDNA 2 GPUs to enter the fray, and while we've had plenty of other cards since, this is the one that shines brighter than most and makes the most sense financially. At least it does if you consider its MSRP, and with AMD's GPUs returning to reasonable price levels quicker than Nvidia's, this could actually give the red team the edge in the short term.
A key battleground for Nvidia and AMD this generation has been on the memory front—covering both bandwidth and capacity. The RX 6800 XT comes with 16GB of GDDR6 across a 256-bit bus for a total bandwidth of 512GB/s. That means AMD has Nvidia's 10GB RTX 3080 on the ropes in terms of capacity but falls slightly behind in raw bandwidth to the RTX 3080's 760GB/s.
AMD has an ace up its sleeve in throughput terms in the form of its Infinity Cache, which bolsters the card's 'effective bandwidth' considerably. Some 1,664GB/s, by AMD's making—a 3.25x improvement over the RX 6800 XT's raw bandwidth. In gaming terms, it means you're looking at similar performance, despite the very different underlying technologies.
It's a tough call between the RX 6800 XT and the RTX 3080, but the latter pips AMD to the post with the final touches à la RTX. The RX 6800 XT is $50 cheaper, delivers high 4K performance, and a hefty VRAM increase over the RTX 3080. However, it's easy to argue that an extra $50 dropped on the RTX 3080 is money well spent: a small price to pay for greater 4K performance, much-improved ray tracing, and DLSS. All are available today and with years of developer support in the bank.
That said, AMD's FidelityFX Super Resolution has gained considerable momentum among developers and offers solid upscaling that's worth enabling in supported games. The introduction of FSR 2.0 in Deathloop (opens in new tab) offers a tantalising glimpse of what the future holds too.
The RX 6800 XT leaves AMD in an incredibly strong position going forward, delivering what is required to get the entire industry to take notice, and with a strong proposition to offer gamers instantly at launch. And it's no surprise to hear the cooperation between Zen and RDNA engineers had a part to play in all this, too.
All of which is to say that AMD has evolved on what was already a promising architecture in RDNA and delivered it in a fantastic graphics card in the RX 6800 XT. And not the least bit impressive in just how swiftly it has achieved near performance parity with Nvidia. There's still some way to go to claw back market share from the green team, but step one on RTG's to-do list (build a high-end GPU) can be confidently checked off with the release of the RX 6800 XT.
We're big fans of what AMD has managed to accomplish with the RX 6800 XT, a return to form for the Radeon Technology Group that injects some much-needed competition into the GPU market and offers a worthy red team alternative for any high-end gaming PC build.
Read our full AMD RX 6800 XT review (opens in new tab).
The best value Ampere to date, the RTX 3060 Ti is very closely related to the RTX 3070. Both utilize the same GA104 GPU (the RTX 3060 Ti has fewer SMs enabled), with the same 8GB of GDDR6 memory across a 256-bit bus.
While 17% less capable in core count than its pricier sibling, the RTX 3060 Ti makes up for it with some judicious GPU Boost frequencies. That partially explains why the RTX 3060 Ti can be within 17% to just single digits off the pace of the RTX 3070, despite operating at a silicon disadvantage. Not bad for a $399 card (if you can find it for that price).
If you haven't already done the maths: At $399, the RTX 3060 Ti is 20% cheaper than the RTX 3070, so performance per dollar is on the up with the diminutive graphics card. That's why we love it so; it's a great GPU for the full stack of resolutions and has decent ray tracing capability to boot, courtesy of second-generation RT Cores.
The RTX 3060 Ti delivers gaming performance that's rather stupendous when you look at generational gains over even the RTX 20-series—next to the GTX 10-series, it's quite frightening, actually. There's exceptional 1080p and 1440p performance in a tiny package here, the likes of which would've set you back something close to twice as much cash a couple of years ago. And that's pretty great.
This card is even capable of dabbling with high-fidelity 4K gaming, although you're going to have to massage some graphics settings in order to really crack a solid 60fps in more demanding games. And that's often just in terms of average framerates, to keep your GPU above 60fps requires a lot of tinkering. That can sometimes take the fun out of 4K gaming in the first place. It's a much smoother affair at 1440p, and at 1080p you can pretty much max everything out and just go.
The Nvidia extras can help here too—DLSS, Reflex, and even Nvidia Broadcast all add to the overall experience. There's a solid base of genuinely great features behind RTX and the Nvidia package that's only been improved upon with Ampere, none more so than the ray-tracing performance for that matter.
There's just the small issue of availability, that which has loomed over all the other RTX 30-series launches to date. Price hikes have undermined this card's very reason for existing, and until it returns to something like its MSRP of $399, it just isn't as enticing a card.
Even so, if the RTX 3080 and RTX 3070 are out of reach, the RTX 3060 Ti certainly makes for a decent stand-in. Perhaps the most impressive demonstration of what this card has achieved is seeing how it stacks up to the 20-series generation: It topples the RTX 2080 Super in nearly every test.
Read our full Nvidia RTX 3060 Ti review (opens in new tab) (Founders Edition).