The pros of buying a pre-built instead of building your own gaming PC include a warranty, professional cable management, and not worrying about whether you screwed up the thermal paste. We're expecting new graphics cards in the new year, so if you aren't looking for a super high-end RTX 4080 or 4090 PC, you might consider waiting. At the same time, Cyber Monday gaming PC deals (opens in new tab) are on now, and a shiny new PC is a great companion for the holidays.
Regarding warranties, you can usually get one with a pre-built, and it'll cover hardware failures, but not all of them cover labor for repairs. Read the policy before you buy so you know what you're getting.
When ordering a prebuilt PC keep an eye on lead times, too. Some retailers will make customers wait three to four weeks before their custom PCs ships, which can be a real pain when you've got raids to see to. If it's going to be a month, you might seriously consider waiting for new GPUs to drop. Some places offer excellent deals on PCs that are ready to ship next-day, but they're less likely to come customised. Since PC components like CPUs and GPUs are now becoming more readily available (thank goodness), lead times should be shorter.
In seeking the best gaming PCs, we've looked for fair prices on builds that contain what we consider the best graphics cards (opens in new tab) and best CPUs for gaming (opens in new tab), from budget to high end, and tested them to make sure you're getting the best frame rate for your money at 1080p, 1440p, and 4K.
Where are the best gaming PC deals?
Amazon - Save hundreds of dollars on selected prebuilt PCs

(opens in new tab)

iBuypower - Fast shipping machines with up to $400 off

(opens in new tab)

Best Buy - RTX 3080 gaming desktops for under $3K

(opens in new tab)

Lenovo - Lenovo Legion gaming machines with up to $300 savings

(opens in new tab)

Newegg - Stellar savings on RTX 30-series gaming PCs

(opens in new tab)

Dell - Up to $750 saved on Alienware Aurora gaming PCs

(opens in new tab)

HP - Save over $300 on all-in-one PCs

(opens in new tab)

Corsair - Some ridiculous savings on compact gaming PCs

(opens in new tab)

NZXT - streaming-focused gaming PCs with $100 off

(opens in new tab)



Nvidia GeForce-powered gaming PCs
RTX 3060 - Lenovo IdeaCentre Gaming 5i | $899.99

(opens in new tab)

RTX 3070 - iBuyPower TraceMR | $1,449.99 $1,249.99 (save $300)

(opens in new tab)

RTX 3080 - iBuyPower TraceMR | $1,849.99 $1,649.99 (save $200)

(opens in new tab)

RTX 4080 - CyberPowerPC Gamer Infinity XLC | $3,314 $2,979 (save $335)

(opens in new tab)



AMD Radeon-powered gaming PCs
RX 6700 XT - HP Omen | $1,649.99 $1,299.99 (save $350)

(opens in new tab)

RX 6800 XT - Alienware Aurora R14 | $2,399.99 $1,799.99 (save $600)

(opens in new tab)
Best gaming PCs
Why you can trust PC Gamer Our expert reviewers spend hours testing and comparing products and services so you can choose the best for you. Find out more about how we test.
Our favorite NZXT Streaming Plus BLD Kit config: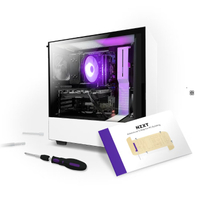 (opens in new tab)
Intel Core i5 11400F | Nvidia GeForce RTX 3060 Ti | 16GB DDR4-3200 (opens in new tab)
The Starter Pro BLD Kit is a fantastic way to get into gaming at the entry-level. You get the same level of support through building as with the config we tested, only this one's better suited for 1080p and perhaps some 1440p gaming. You still get a great RAM and NVMe storage combo with it, and it's going cheap right now, too, so it's especially great value for money.
The NZXT Streaming Plus BLD Kit (opens in new tab) isn't your typical off-the-shelf gaming PC. You end up with an absolute monster of a machine, but you have to put most of it together yourself. NZXT offers more traditional builds for would-be buyers, but this doesn't feel too much for most PC gamers to handle.
This is a full PC kit instead of a pure pre-built. Everything you need for a fully functioning machine is here, and NZXT has taken the hard work out of the component selection. This means you won't come unstuck mid-build because a cable is too short, you don't have enough cooling, or because your graphics card simply won't fit.
This is just such a great way to get into PC building, and there's something eminently pleasing about receiving a box filled with everything you need (i.e. the components), along with some clear instructions, and piecing it all together.
It's like Lego, but Lego that can run Metro Exodus Enhanced at 60fps. It also just so happens that the money NZXT is charging makes for a far better deal than you generally see with actual pre-built systems. I'm talking in very real terms here—you're looking at an Nvidia GeForce RTX 3070 (opens in new tab) for your money whereas you'd usually top out at an RTX 3060 Ti (opens in new tab) outside of sales events.
In the box comes a mix of NZXT-branded boxes peppered with plain brown boxes containing some of the third-party elements, such as the motherboard and graphics card. You also get a chunky build guide that takes you through the whole process like a choose-your-own-adventure book. Literally. I followed the guide as if I was a novice, and there were no nasty surprises. Some more time given over to cable management in the guide would have been good, although that's much more of an art form, anyway.
NZXT has updated this kit since we first got it in for review—it has replaced the AMD Ryzen 5 5600X with the 5700X for the same money. That means you jump up from a six-core, 12-thread chip to an eight-core, 16-thread CPU. The 5700X does have a lower base speed of 3.4GHz, but it has the same max boost of 4.6GHz, and that's where it'll sit most of the time when gaming anyway. Essentially, it won't make much of a difference in your games, but if you do more serious work those extra cores are definitely welcome, especially if you do focus on the streaming side of gaming.
The rest of the spec is solid, with a 1TB NVMe SSD and 16GB of DDR4-3200. You're only looking at a PCIe 3.0 SSD, specifically the WD_Blue SN570, but at least you've got plenty of capacity to play with. This SSD comes with Windows 11 Home installed by default and seeing your new build boot into Windows for the first time is always a pleasing experience. The only thing NZXT has left for you to do is to download and update the graphics drivers. There are plenty of Windows updates to work through too, but it's not an arduous process.
The AMD Ryzen 5 5600X in this machine is fine for gaming, although it can lag behind the similarly-priced competition in some tests. The likes of the ABS Master (opens in new tab) and Build Redux 'Good' come with an Intel Core i5 12400, and that chip turns in more impressive numbers in the Cinebench R23 test—both in terms of single-core and multithreaded performance.
It isn't an all-out loss though, with the X264 video encoding test showing that AMD's Zen 3 architecture can still kick out the numbers. You're looking at 39fps in that benchmark, which is a shade quicker than both of those machines. If you're looking for serious CPU performance though, then the iBuyPower SLMBG218 (opens in new tab) is the way to go, as that system comes with the Core i7 12700F—that chip offers almost double the multithreaded performance in Cinebench and X264.
The RTX 3070 is the star of the show here. With most similarly priced machines shipping with an RTX 3060 Ti at best, this NZXT system is just simply the better option for gamers. The lead may be subtle at times, but it's absolutely the smoothest experience in every game we tested with.
This is the only machine that we've seen at this price point that can hit 60fps in Metro Exodus Enhanced using the ultra settings at 1440p. This game may be getting on a bit, but it still looks great, and really shows off what your machine can do. Elsewhere, you're looking at roughly 10% improvement in most games at 1440p over 3060 Ti-based machines, with the one exception being Far Cry 6, which manages just 3fps over the Build Redux 'Good' machine.
Essentially, you're going to be able to play pretty much any game at the top settings at 1440p without issue. And with DLSS on hand to help out in ray tracing heavy titles, you can easily show off what the best games are capable of with this machine and not feel like you're missing out. 4K isn't too much of an ask either, making this a versatile option for plenty of gaming setups.
Overall, the NZXT Streaming Plus BLD Kit is easy to recommend, and a great option for anyone looking to buy a gaming PC right now.
Read our full NZXT Streaming Plus BLD Kit review (opens in new tab).
Our favorite Aurora R13 config: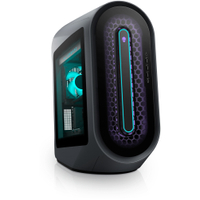 (opens in new tab)
Intel Core i7 12700F | AMD RX 6700 XT | 16GB DDR5-4400 (opens in new tab)
Backed by AMD's RX 6700 XT this is a powerful config that even comes sporting some speedy, dual-channel DDR5 RAM. The 512GB NVMe SSD may be a little small, but this is still a great config, and at least it's not weighed down by a spinning platter hard drive.
While the extra-terrestrial styling may not appeal to everyone, the performance of Alienware's Aurora R13 gaming PCs remains undeniable. The latest Aurora R13 uses a new design compared with its Aurora forebears and gives the Intel 12th Gen processors and Nvidia RTX 30-series GPUs a home in Alienware's new chassis. With a window, no less.
Like the Aurora R10 Ryzen Edition, Alienware offers the choice of both Nvidia and AMD graphics cards, but you have to dig into the customization options if you want to pick from either the Radeon RX 6800 XT or RX 6900 XT cards. Alienware also offers eight discrete configurations on its site, from low-end gaming rigs sporting the GTX 1650 Super and Core i5 12400F, all the way up to RTX 3090 gaming monsters.
That gives you a range of Alienware gaming machines from reasonably affordable 1080p gaming right up to blistering 4K workload-smashing performance, and the Alienware AIO cooling system will help keep the cozy interior of the case at a reasonable temperature, too.
While the actual configs Alienware offers are great starting points, as with the Ryzen Edition, it's absolutely worth digging around in the customization options when it comes to picking the right rig for you. Our favorite setup, boasting the Core i7 12700F and RTX 3060 Ti GPU, only comes with a 512GB SSD, but is thankfully sold with dual channel DDR5 memory, as opposed to the single sticks it has been guilty of in the past.
The memory issue is something you had to be aware of when buying Alienware products. Previously you'd have to go into the configuration options to select dual-channel memory options. This would then double your memory bandwidth, and it was a bit off when its machines were otherwise sold with the weaker solitary stick.
We have played with the RTX 3090 version (opens in new tab) of the last-gen Aurora R10, sans liquid chilled GPU, and in gaming terms, you're not going to get a lot higher frame rates than you would with the RTX 3080 build. That's not a massive surprise given our testing of the RTX 3090 at launch; it only makes sense if you need that 24GB frame buffer for creative work.
The unconventional case design exploits every inch of its limited space, but it initially feels a bit awkward to tinker with. However, access to nearly every part of the PC without tools is a definite plus, as this expedites upgrades and maintenance—so long as you're familiar with the design. There's an obvious priority on providing a convenient, premium product with some potential for upgrades, and the Aurora design just about accomplishes that goal.
You can pick up an Alienware Aurora R13 in a week or two nowadays, which is great news if you're in a rush. Who isn't for a brand new gaming PC?
Our favorite Corsair Vengeance config: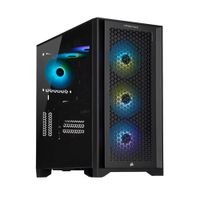 (opens in new tab)
AMD Ryzen 5 5600X | Nvidia RTX 3070 | 16GB DDR4-3200 (opens in new tab)
The Vengeance a7200 comes with the latest hardware from AMD and Nvidia and will make for one supremely powerful gaming PC straight out of the box. This configuration comes with the outstanding hex-core Ryzen CPU and Nvidia's outstanding RTX 3070. You'll also find 16GB of DDR4-3200 RAM, properly configured in dual-channel mode, and a 1TB SSD.
There's a reason Razer is desperate to follow Corsair's lead; it's one of the biggest names in PC gaming hardware right now. Through continual product expansion, and some super-smart acquisitions, Corsair now has its fingers in pretty much every facet of our hobby.
In fact, CPUs, motherboards, and GPUs are the only places you won't find a Corsair logo, but with its impressive line of premium gaming PCs, that logo will still contain all three: the very finest of all that technical jazz.
And if you're looking to kick start your career as the next big Twitch streamer, Corsair's integration of Elgato streaming tech in its PCs means they're a great option for the budding stream-star.
Likewise the powerful AMD CPU/Nvidia GPU combo means that you'll be able to play and stream most games without much trouble. What makes this system stand out is the optional Elgato 4K60 Pro capture card in the specific "Streaming" machines. This allows for delay-free 4K gameplay footage capture from your gaming PC, consoles, or 4K camera via HDMI.
Sure, you can just use OBS Studio or Nvidia's Shadowplay (or whatever it's calling itself these days), but there will always be some overhead to deal with. Using a professional capture card can really take the load off. And that's especially good for broadcasting a livestream.
Since Corsair acquired Elgato, it now has access to some of the world's best streaming hardware for its Vengeance rigs. Pair that with Corsair's classic component quality, and you have a recipe for not only great gaming PCs but fantastic streaming rigs, too. You've got to hand it to Corsair; it sure knows how to build a fine PC.
We've played with its more bespoke Corsair One PCs, which look like the Mac Pro or softer Series X, and they're great little machines. But the Vengeance gaming PCs are more straightforward, and that means they're also far easier to upgrade down the line.
Corsair's chassis are among the best around, and they're most accessible for DIY projects, which makes the Vengeance machines a great first PC with a view to getting into the upgrade game later on. The only issue with that is Corsair doesn't really lend itself to the more affordable end of the PC spectrum.
You're not going to get a $1,000 Vengeance rig as an entry-level PC and build from there, so don't expect to hit the budget builds here—Corsair's machines are most definitely premium PCs for the enthusiast.
Read our full Corsair Vengeance A4100 review (opens in new tab).
Our favorite HP Omen config: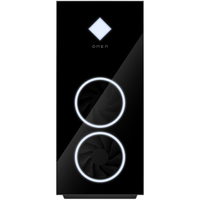 (opens in new tab)
Intel Core i7 12700K | Nvidia RTX 3060 Ti | 16GB DDR4-3733 (opens in new tab)
Configure the system with the mighty RTX 3060 Ti, 16GB dual-channel memory, and a healthy 512GB SSD, and you've got the makings of a seriously powerful gaming PC at a decent price. There are further configuration options available, too, should you wish to bump it up to a 1TB SSD for another $100.
Hewlett Packard has been around since before the Second World War, and that historical expertise is evident in the design and construction of the Omen line of gaming PCs. I mean, they are slightly smaller than they were back in the day, but the heritage remains. HP Omen offers a wide range of customization options with its Omen 25L, 30L, 40L, and now 45L systems, allowing you to take your pick of AMD, Intel, and Nvidia component CPU and GPU options.
You can also take that configuration to the memory and storage requirements, too, allowing you to really tailor your system. HP Omen rigs are on the more restrained side of PC gaming, so you won't find an over-elaborate liquid cooling system or a massive suite of spectacular RGB lighting. Tall, surprisingly thin towers still contain some of the best hardware around today.
Omen systems are appropriately named dense black blocks of computing power. If you value smooth lines and compact design over the flash and spectacle of RGB, you'll appreciate the dark, slightly brooding aesthetic of the HP lineup.
We've looked at machines with last-gen processors in them, and that can be a good way to save a little cash because you can still get the very latest Nvidia GPUs inside them. You can also get last-gen GPUs, but we'd advise you to steer clear of either the RX 5500 or RTX 2080 Super builds; those are still relatively expensive and the graphics hardware will date far quicker than anything else in the system.
HP has recently updated its lines to offer more options from Intel's Alder Lake up, although it's worth noting that it is sticking with DDR4 on the memory front due to the high price of DDR5 right now. This may change down the line, but that naturally has us leaning towards its mid-range and budget offerings, simply because they make more sense from a value for money perspective.
We haven't specifically reviewed the latest range of gaming systems from HP, but we've been testing its gaming PCs since the Obelisk range, and we've always appreciated its no-unnecessary-frills approach to system-building and the value proposition of its rigs.
Our favorite Corsair One config: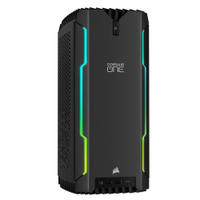 (opens in new tab)
Corsair One A200 | AMD Ryzen 9 5900X | Nvidia RTX 3080 | 32GB DDR4-3200 (opens in new tab)
While we do love an overpowered machine, the savvy combination of Nvidia GeForce RTX 3080 and Ryzen 9 5900X means these run quietly and still offer extreme gaming and creative performance.
Corsair has overhauled its compact One gaming PCs with the latest parts from Intel, AMD, and Nvidia—and we're absolutely here for it. The Corsair One i300 is the latest version of the compact high-end gaming PC. That's a lot of cutting-edge hardware for what can only be described as a helluva lot of money.
Don't dismiss the memory or storage in this rig either. DDR5 is currently incredibly hard to get ahold of. In 64GB trim like we have here, you know you're not going to come up lacking in any game on this front is welcome. Yes, it's overkill, but it means you won't need to upgrade anytime soon.
The Corsair One A200 and i300 deliver top-of-the-line gaming performance, which is perhaps unsurprisingly considering its credentials: up to an Nvidia GeForce RTX 3080 Ti (opens in new tab) and AMD Ryzen 9 5950X (opens in new tab), while on the Intel side you can have the latest Alder Lake chips, such as the incredible Core i9 12900K (opens in new tab). It's wild what you can stuff into such a small chassis nowadays and have it run reasonably cool and quiet, too.
Something that hasn't changed too much since it first appeared on the scene, is that chassis. The idea of this being a beautiful PC is often banded around with expensive builds, but here it's genuinely warranted. This is a machine that you not only want to have in clear view on your desk, but it won't take up much room, or make too much noise if you do. Honestly, this thing is much smaller than you might think, measuring half as deep as most mid-tower systems.
The Corsair One achieves this by using two compact liquid coolers, one for the CPU and one for the GPU. You'll have to adjust your expectations for CPU temperatures perhaps a little above your comfort zone during intense operations, but there's nothing these chips aren't built to handle day in, day out.
When you're dealing with high-end kit, temperatures can get toasty. Very toasty. The Core i9 12900K in this build is a power-hungry chip (drawing up to 241W), and it can run hot when stressed even in much bigger systems with triple-fan coolers. Here, I witnessed the CPU temps touch 100°C a couple of times in testing, resulting in the chip throttling back—although only briefly even when pushed hard. This is still an incredibly powerful CPU too, so even allowing for this brief throttling, it's still one of the fastest machines I've ever used, and tops plenty of the benchmark tables.
Overall, the Corsair One ably achieves what it sets out to do. It's a compact gaming PC that showcases the latest technology an impressively smart, and dare I say, beautiful case. It's a machine that many gamers would love to own, but few can afford. But for those that can... it's a treat.
Read our full Corsair One i300 review (opens in new tab) and Corsair One A200 review (opens in new tab).
Our favorite Origin Millenium config: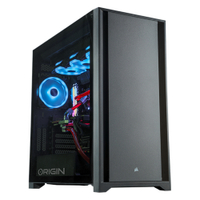 (opens in new tab)
AMD Ryzen 9 5900X | Nvidia RTX 3080 | 32GB DDR4-3200 (opens in new tab)
Configure the Millenium with our favorite Zen 3 CPU from AMD and the mighty RTX 3080 GPU from Nvidia, and this beefy machine can be both a stunning gaming rig and a hell of a workstation machine—and it will ship in around a week, too.
Best gaming laptops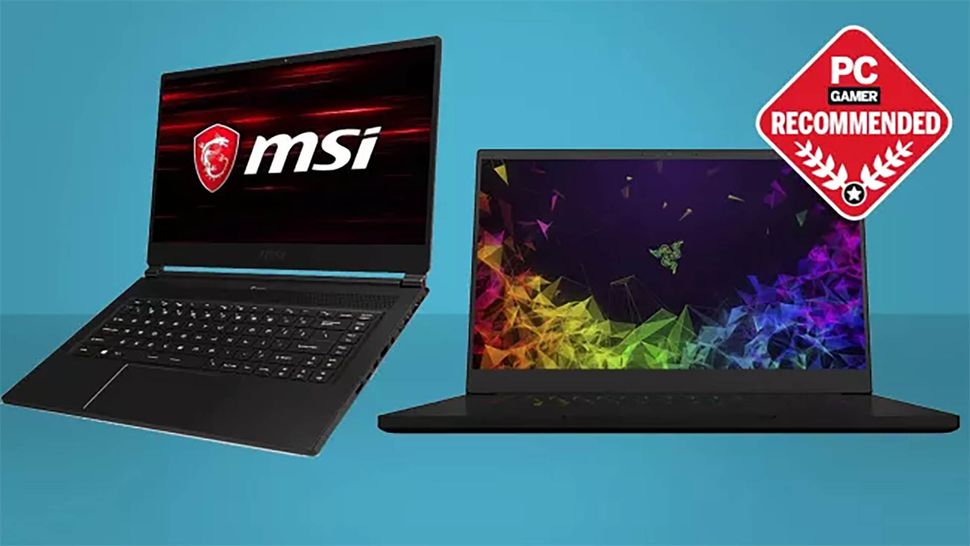 If you prefer gaming on-the-go, you'll want to take a look at our best gaming laptop (opens in new tab) guide.
The Origin 5000T Millennium gaming PC makes my current desktop look an exceptional weakling. Origin's prebuilt PC (opens in new tab) starts at $2,644, and the unit it sent me was the high-end $5,158 configuration. It's the extreme gaming PC that few can afford, but even despite the power inside, it's the precision and care that you don't always see in prebuilt rigs is what's most impressive
In terms of raw performance, the Origin 5000T deploys its i9 12900K and GeForce RTX 3080 Ti well. The gaming PC is neck and neck in most game and synthetic benchmarks with the other two rigs we've tested with similar specs, including the Corsair One i300 and the Velocity Micro Raptor Z55. It's exactly what you'd expect from one of our favorite gaming CPUs (opens in new tab)and a close competitor (opens in new tab) to our favorite GPUs.
At 1080p, the Origin 5000T Millennium is completely overkill. The system clocked in at over 100 frames with every game I threw at it. In F1 2020, it hit an average of 287 fps at ultra high settings. It's hard to recommend such a robust and expensive gaming PC for someone that would be much better served with something way more modest and significantly cheaper unless you're trying to play Fortnite at 360Hz, then by all means, live your life. But for 4K gaming, and to a lesser extent, 1440p gaming, this prebuilt brings in solid frame rates all around in our tests. In all of our 4K benchmarks, it hit over an average of 60 fps with highs of 90 fps. If you want to crank games up to 4K and have a smooth experience, this PC should comfortably hit that with some frames to spare.
Our version of the Origin 5000T Millennium had a few issues outside of its star hardware. It has 32GB of Corsair DDR5 memory that's clocked at 4800 MHz, which couldn't quite keep up with other PCs in our tests. Even so, the 32GB of memory is a nice addition if you want to multitask or have a bunch of chrome tabs open while you play games. It can also help out if you plan to stream too. DDR5 is still tough to get at the moment, so it's nice to see it included here. The difference between this PC and the others was fairly minimal, but it's something to keep in mind when both the Corsair One i300 and the Velocity Micro Raptor Z55 retail at a slightly cheaper price.
If it were me, I'd drop the CPU down to a i5 12600K, a GeForce RTX 3070, 32GB of RAM, Corsair H60i Pro XT, and stick with standard non-RGB fans to get the price down to around $3,000. You could grab an RTX 3080 for about $500 more, but if you're like a lot of gamers (opens in new tab), and still use a 1080p monitor, there's really no need. The 5000T case and the overall build quality is worth taking the time to mix and match hardware to fit your budget for this system.
Read our full Origin Millenium gaming PC review (opens in new tab).
Best gaming keyboard (opens in new tab) | Best gaming mouse (opens in new tab) | Best gaming chair (opens in new tab)
Best VR headset (opens in new tab) | Best wireless gaming mouse (opens in new tab) | Best CPU for gaming (opens in new tab)
Best gaming PC FAQ
Why buy a prebuilt gaming PC?
One of the most significant advantages of building your PC is the ability to hand-pick every single component in the system. This enables you to take your time shopping around for deals and finding the best combination of parts to fit your budget and performance needs. The downside for most inexperienced builders is that this process can take some time and cause quite a headache if something goes wrong. You only get warranties on the individual components, not your finished build, and this is where the best prebuilt gaming PCs shine.
What do you get for your money in a prebuilt PC?
When you pay the premium to configure or purchase a prebuilt PC, you pay for more than just the parts. You pay for warranty service, support, and peace of mind that professionals put your system together. These are some of the things we value highly when considering what the best gaming PC is. We also look at other selling points, like design, upgradability, and anything you wouldn't be able to do when building it yourself.
What sets a prebuilt machine apart from a DIY build?
One of the most significant factors that make PCs stand apart from the competition is the design. Prebuilt systems like the Alienware Aurora R10 or Corsair One use unique in-house chassis designs you wouldn't be able to purchase when building it yourself. You can take some comfort in knowing that these systems were designed and built specially to house your configuration, though that can make upgrading more awkward later on down the line.
When we set out to choose our top choices of prebuilt gaming PCs, we look at almost every major manufacturer and system integrator to find the best combination of value, reliability, customer feedback, design, and performance for various budgets and needs.