External hard drives have evolved. They are no longer giant cubes resembling black boxes on commercial airliners. In 2023, SSDs will be a faster, more efficient, and better long-term solution to storage that can keep up with any tasks you throw at it, and right now, external SSDs are nowhere near as expensive as they once were. It's easier and safer nowadays to recommend a 1TB portable SSD over most hard drives.
An external hard drive with spinning platters (rather than the solid-state memory chips in SSDs) will still be cheaper and a good option if you're looking for massive external storage. But the best external drive balances speed and capacity, and SSDs offer just that. That's why the Samsung T7 Shield is the best external storage drive we've tested this year.
If speed is an absolute priority over storage capacity, I'd recommend picking up one of the best external SSDs for the straight throughput of smaller drives (up to 1TB). NVMe SSDs inside your PC are up to 10x faster than HDDs but are more expensive—check out our HDD vs. SSD comparison for the key differences. Beyond 1TB, an HDD isn't completely redundant. For a serious chunk of storage space, it'll be best to go the spinning plater route—need 8TB of portable storage because you work with big video files? Knock yourself out because there are tons of them at great prices.
We've benchmarked a bunch of external hard drives, trying to narrow them down to the best of the best. Whether you're looking to bolster your gaming desktop PC's storage or find more space for your gaming laptop, you'll find the best external HDDs below. Grab one of these, and you'll never have to worry if you or Call of Duty update again.
Best external hard drives
The T7 Shield is Samsung's new portable NVMe SSD that's about as big as a playing card. Thankfully, it's a lot more durable. It is designed for the "creative professionals and consumers on the go," which means you can use it outside or stuff it in a bag without worrying about breaking it or compromising your data.
The Samsung T7 is aimed at content creators who travel and, for whatever reason, might end up a little wet or with a bit of dirt on their person. We've all been there. It's rated IP65 durability classifying it as dustproof and water resistant. Water resistant isn't the same as waterproof, so if it gets dropped into a toilet, you're running a 50/50 shot of it working, depending on how long it was submerged.
To test it, I left the SSD on my patio in the rain for a couple of hours since absent-mindedly leaving things outside feels more like a real-world situation I'd end up in. That's a more common day-to-day scenario than editing videos in the desert, as some of these rugged drives' marketing materials would have you think.
The T7 Shield is compatible with game consoles, too. Great if you're looking for a nondescript way to expand your storage. I mostly used it to keep the games I use for benchmarking laptops and PCs. But loading games like Horizon Zero Dawn from the SSD didn't present any issues, nor did I see any dips in performance after playing for about an hour.

The drive comes with a USB Type-C to Type-C cable and a Type-C to Type-A cable, which works on PC, Macs, consoles, and Android devices. The T7 is available in beige, black, and blue and is offered in either 1TB ($160) or 2TB ($290) capacities. The pricing for the 1TB isn't bad, but almost $300 for a 2TB still feels too expensive, even if it's priced the same as others on the market.
It's a great tiny little drive you never have to worry about breaking daily. While it may be overkill for some in this rugged form factor if you are one of those content creators working in extreme conditions or just a drop-prone klutz like yours truly, it's a safe bet.
Please read our Samsung T7 Shield review.
We like WD's My Passport. It's not as compact or fast as Samsung's T5, and it can't withstand an armageddon like LaCie's XtremKey can, but at up to 4TB for $100, it offers copious storage space at a good value. We also like that Western Digital fares well each time cloud backup provider Backblaze releases a hard drive reliability report.
The 4TB model is compact and weighs just 250g. You probably wouldn't want to try and jam one into a shirt pocket, but they're almost as portable as a smartphone, just a little chunkier.
The 1TB Passport is slightly thinner and weighs 170g if you don't need as much space. It is, undoubtedly, the minivan of external hard drives. No external power supply is required in order to use WD's drive—plug in the USB cable and start backing up your files. You can also install WD's backup software to automate the process.
WD also goes the extra mile with password protection and hardware encryption. And if you're looking to make a fashion statement, you can select a My Passport in various color options.
If you need to go big when you leave home, Seagate's 8TB Expansion drive is the way to go. It's not exactly the best external hard drive; you don't get the best speeds when transferring files—although they're not too far behind the WD My Passport, you get masses of space and a very reliable drive.

While there's no real point in getting a Seagate with less than the maximum capacity, its speeds are quickly eclipsed by other drives; the 8TB version strikes a nice balance between capacity and efficiency.
It hits around 150MB/s during both read and write tests, which is about mid-range for HDDs, but in terms of price, you can get this drive for around $130 (£120) or up to 10TB if you're feeling particularly storage hungry. That's way better than you'll find on SSDs and beats most internal HDDs if you compare them.
It's USB 3.0 compatible, too, so you have a drive that'll plug into most PCs and laptops. If you're a regular laptop user, this is handy for extending the pitiful storage in most machines. As a warning, this requires external power and comes with its own power unit, so it's slightly less portable than other drives.
NVMe inside? Yep. TLC NAND memory? Affirmative. IP rating for increased robustness, including waterproofing? Check. All for an attractive price? Confirmed. The Adata SE800 Ultra FAST 1TB does have quite a bit going for it.
It starts with that NVMe SSD, bridged to a USB interface. In this case, it's a 10Gbps USB 3.2 Gen 2 interface rather than a 20Gbps USB 3.2 Gen 2x2 connection. But this drive is still claimed to be suitable for 1GB/s data transfers in both directions. Lest you have forgotten, that's around twice as fast as any SATA-based drives, including internal SSDs connected natively via SATA.
It's also lovely that Adata has equipped the SE800 with TLC rather than QLC NAND memory. The latter is typically slower and offers lower write endurance. All very nice, but what is unusual is the SE800's IP68 rating, a characteristic hinted at by the pop-off cover over the USB Type-C port. It means the drive is rated impervious to dust ingress and can survive immersion in up to 1.5 meters of water for 30 minutes.
That makes it unique among these SSDs, and, what's more, given the competitive pricing, you're getting that IP rating effectively for free. Performance-wise, in testing, the Adata delivers in the headline 1GB/s spec for sequential transfers while notching up 4K random throughput comparable to the competition at 21MB/s for reads and 40MB/s for writes. The only slight chink in the SE800's armor is that sustained performance drops to around 260MB/s after around 15GB of internal drive traffic. That's a little off the pace of some alternatives. But it's not enough to spoil an otherwise highly appealing package.
Best gaming laptops | Best gaming keyboards | Best gaming mouse
Best gaming motherboards | Best graphics cards | Best gaming monitors
Peak Storage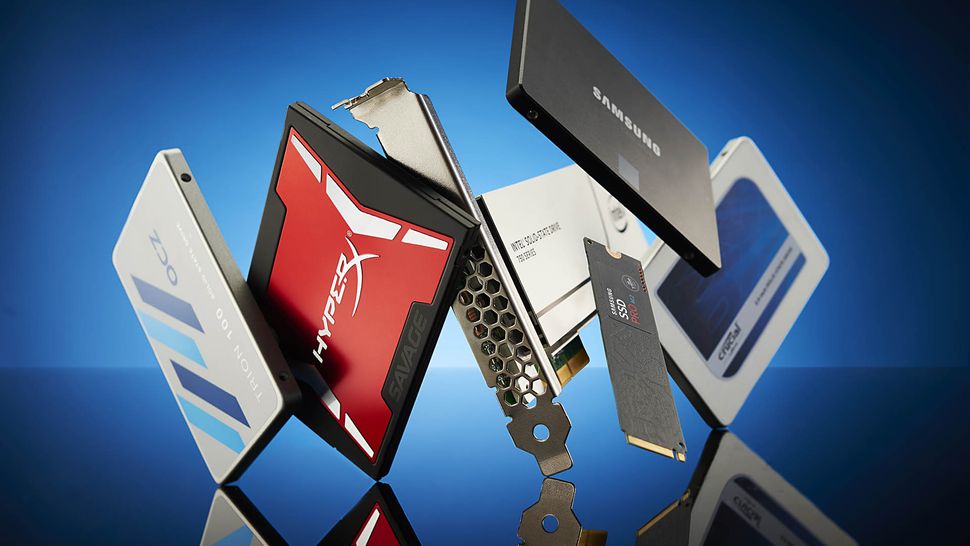 Best SSD for gaming: the best solid state drives around
Best PCIe 4.0 SSD for gaming: the next gen has landed
The best NVMe SSD: this slivers of SSD goodness
Best external hard drives: expand your horizons
Best external SSDs: plug in upgrades for gaming laptops and consoles
When you think about what external hard drives are used for, durability suddenly becomes essential. While it might look like a doggy chew toy, the LaCie Rugged portable HDD is as tough as they come and even has a rubber cover around the edges to dampen the shock from any impacts.
DO NOT TRY THIS AT HOME, but you can drop this thing from a fair height, and it'll stay perfectly intact.
The speeds it operates at are respectable if on the lower end of the scale, hitting about 110MB/s in read-and-write tests. You can pick up the LaCie relatively cheap, although you are paying a little more for durability, so you're looking at about $110-120 for a 2TB model and $100 for a 1TB. We recommend the 2TB because it will last so long that it'll store your files for years.
If you're careless with how they pack their bag, or you genuinely take your PC files on more extreme outings, this is the external HDD for you. It has various variations to suit all connection types, including USB 3.0, mini-USB, USB Type-C, and multi-input versions.
Best external hard drive FAQ
What type of external hard drive is best?
Your two main options for external drives are a traditional spinning platter hard drive (HDD) and a solid-state drive (SSD). Your SSD is more akin to a standard USB stick where you're storing all the data in little flash memory chips rather than writing it onto a metal platter. That makes them more robust but also more expensive and lower capacity.
Hard drives are still valuable because they can provide cheap, huge data storage volumes, And if you don't need to access that data quickly or regularly, they're fine. Transfer speeds of hard drives are a fraction of what you'll get from a quality SSD.
An SSD, however, is far quicker and generally smaller, which makes them more portable. Their speed means they're far better suited to be an extension of your game library because you can play directly from the SSD itself.
Which lasts longer: SSD or HDD?
Generally, SSDs are the more durable of the two. They don't have any moving parts and are more resistant to temperature and shock... such as being tossed in a bag and dropped. But carefully looked after, a hard drive can last for years without a problem.
What are the disadvantages of SSDs?
The main disadvantage is their price/capacity metric. They are more expensive to make. Therefore, you will get less storage capacity for your money with an SSD than with a hard drive.
The other disadvantage is that recovering lost data from a solid-state drive is much harder, often impossible. Though if you've shattered your HDD to pieces, the same could be said for it, too!