First spotted by Massively Overpowered (opens in new tab), Standing Stone Games, developer of the long-running D&D-based MMO, Dungeons & Dragons Online, just revealed its 2023 roadmap (opens in new tab) for the game. Standing Stone is celebrating D&D Online's 17th anniversary with a new free dungeon and three character archetypes, as well as a "mini-expansion" launching sometime between April and June.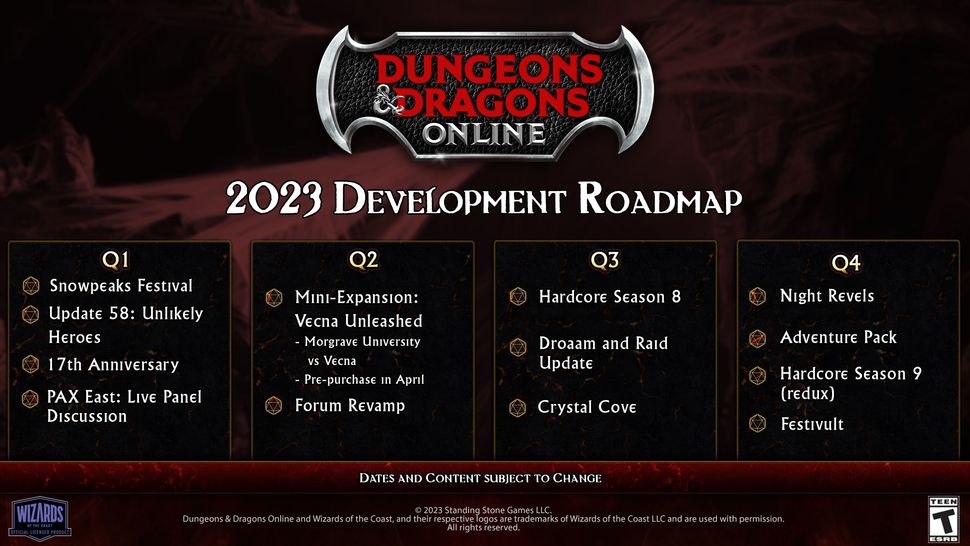 D&D Online news is a bit of a blast from the past for me⁠—I was still in middle school when this game first launched in 2006! Initially focused on D&D's Eberron Campaign Setting, the game expanded in 2012 to include content for the juggernaut Forgotten Realms, home of Baldur's Gate and Neverwinter. Stewardship of the game was transferred from original developer Turbine to Standing Stone in 2016, and D&D Online has continued to see steady support. Its last expansion, Isle of Dread (opens in new tab), was released last June.
The centerpiece of D&D Online's 2023 plans is Vecna Unleashed, that aforementioned mini-expansion and follow-up to the MMO's ongoing story. Vecna, for those who need a brush-up on their D&D lore (how dare you) is a super archvillain lich bugaboo with origins in Gary Gygax's original Greyhawk campaign setting. The nasty boy has since cropped up in other settings like Ravenloft and Forgotten Realms, and you may recall snagging his enchanted pajamas second hand in Baldur's Gate (opens in new tab) and Neverwinter Nights.
To tackle Vecna, D&D Online has you teaming up with the Eberron-based adventurer/archeologist academy Morgrave University. My colleague, PC Gamer contributor Jon Bolding, described the plot setup as "basically Indiana Jones vs. The Multiverse-Traveling Lich King," so that sounds pretty neat.
Even though I'm not a D&D Online player myself, there's still something so heartening about seeing this generation of late '00s, early '10s MMOs continue to soldier on, even as contemporaries like Tabula Rasa (opens in new tab) closed shop while more recently-launched live service games like Marvel's Avengers (opens in new tab) and Anthem have already entered an end-of-life, unsupported state.
My favorite of this classic MMO cohort is probably the fan-made Star Wars Galaxies Revival (opens in new tab), which is keeping that ambitious, beloved MMO alive in the 2020s. Meanwhile, Galaxies' killer, my dear old friend The Old Republic, is also keeping the dream alive. Its last full expansion, Legacy of the Sith (opens in new tab), dropped in 2021, while TOR got a Mandalorian-focused content update, Showdown on Rhunuk (opens in new tab), just last month.